Antarctic Cruise

Antarctica Cruises
About Antarctic Cruises
Antarctica cruises will take you to the far reaches of the globe that few ever get the opportunity to experience. The journey is spectacular and what awaits you is absolutely awe inspiring. Antarctica is quite simply like no other place on earth. The world's southernmost continent is covered with majestic peaks and glittering beauty. In the summer months in the Antarctic the sun never sets. Antarctica cruises will take you past icebergs to a land which is home to many creatures big and small. Humpback and Orca whales, penguins, and seals are a sight to behold as you cruise to Antarctica. Many bird species including the Albatross migrate to the South Pole each summer.
Antarctica cruises are usually offered on expedition-like vessels which are smaller in size and specially equipped with the highest polar ratings and which minimize the impact to Antarctica's fragile environment. While onboard, expert lecturers and naturalists provide information and unique insights about the destination's history, wildlife and surroundings.
Antarctica cruises depart from a number of ports and range in length from 7 to 68 days. Call now or book online to receive exclusive rates and special offers on your next Antarctic cruise.
Best Antarctic Cruise Deals
All offers are based on select sailings and categories and are subject to availability at time of booking. All rates are per person based on double occupancy.
Antarctica Cruise Highlights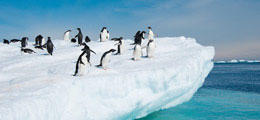 Incredible Wildlife
The wildlife of Antarctica is as diverse as it is spectacular. It is one of the few places in the world where you can see penguin colonies, condors, whales, sea lions and elephant seals living in their natural habitat. A cruise to the Antarctic is one of the best ways to see these magnificent creatures.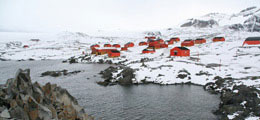 Expert Lecturers and Naturalists
A cruise to the Antarctic provides a wealth of knowledge that is emphasized even more by the expert lecturers and naturalists that accompany your journey. Learn about Antarctica's geography, wildlife and fragile ecosystems on this once in a lifetime adventure.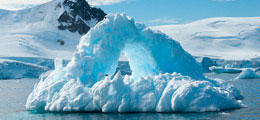 Dramatic Landscapes
Antarctica was formed more than 170 million years ago and the vast and dramatic landscapes are awe inspiring. Known as the blue continent, Antarctica is filled with incredible blue icebergs, glacier carved coves and some of nature's most unspoiled beauty that few get the opportunity to visit.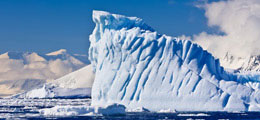 The World's Southernmost Continent
Antarctica is the southernmost continent on earth. James Cook was one of the first explorers to cross the Antarctic Circle in 1773, followed by many other expeditions and research teams seeking to learn about this unique and exotic destination.