Australia and New Zealand Cruises

Australia Cruises and New Zealand Cruise Vacations
About Australia and New Zealand Cruises
A cruise to Australia and New Zealand is an adventure of a lifetime that will take you to a world filled with incredible landscapes and seascapes, diverse histories and culture, exotic wildlife, modern energetic cities and quaint towns. On a cruise to Australia and New Zealand you will encounter local wildlife such as koalas, kangaroos, wallabies and Tasmanian Devils. Australia's Great Barrier Reef is a remarkable natural gift made up of over 3000 reef systems and coral cays that teem with an abundance of marine life and sun-soaked golden beaches. Australia's Ayer's Rock is one of the oldest rock formations in the world and a sacred site for the Aborigines.
The energetic and cosmopolitan cities of Sydney and Melbourne are highlights of any Australia cruise. A cruise to New Zealand will introduce you to magnificent fjords, the culture and traditions of the indigenous Maori tribes, and its spectacular landscapes. Wine lovers will enjoy the opportunity to sample local wines in both Australia and New Zealand.
Cruises to Australia and New Zealand range from 1 to more than 50 days with departures leaving from Auckland, Brisbane, Dubai, Fort Lauderdale, Fremantle, Hong Kong, New York, Papeete, San Francisco, Singapore and Sydney. Call now or book online to receive discounts, onboard credits, upgrades and more on your next Cruise to Australia and New Zealand.
Best Australia Cruise Deals & New Zealand Cruise Deals
All offers are based on select sailings and categories and are subject to availability at time of booking. All rates are per person based on double occupancy.
Australia and New Zealand Cruise Highlights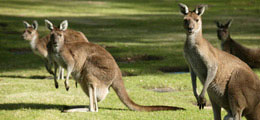 Exotic Wildlife
Australia and New Zealand feature many different species of wildlife including Koalas, Kangaroos, wallabies and Tasmanian Devils. Emperor Penguins can sometimes be seen on New Zealand beaches and Humpback Whales and dolphins can be seen visit the waters off of Queensland in Australia.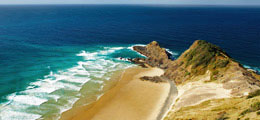 Spectacular Landscapes
The geography of Australia and New Zealand is diverse and includes lush jungles, the desert-like Outback region, majestic fjords and incredible beaches. Taking a cruise to Australia and New Zealand allows travelers to experience the full range of all of the different areas that can be seen while traveling down under.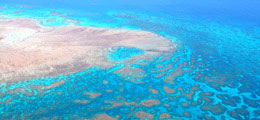 Great Barrier Reef
Australia's Great Barrier Reef is one of the seven natural wonders of the world and is the world's largest coral reefs. It is larger than the Great Wall of China and is the only living thing that can be seen from space. It offers incredible diving and snorkeling experiences and is home to more than 400 different kinds of coral, over 1500 species of tropical fish and a number of different reptiles including sea turtles and giant clams.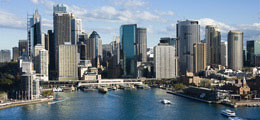 Modern Cities and Laid Back Cultures
Australia and New Zealand's modern cities offer great shopping, local cuisines, excellent local wines, cultural activities and a friendly, laid back culture. Australia and New Zealand is a place where unspoiled wilderness and modern, sophisticated cities meet.