Amazon River Cruise

Amazon River Cruise
About Amazon River Cruises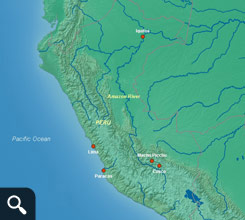 An Amazon River Cruise offers an incredibly exotic experience that is both fascinating and unforgettable. Guides will provide narratives about life along the world's largest river (considered the second in size by some). Journey to almost completely unexplored regions and experience the wilderness that originates in Peru and runs through Brazil and Columbia.
While the Amazon Basin covers a region larger than Western Europe, it is in Peru, with the world-famous rainforest, that it boasts the greatest biodiversity. Awe-inspiring experiences await you as you venture deep into the jungle, where you will find rare wildlife and be able to interact with those living in native communities. Stop in remote villages and spend time in the unbelievable Pacaya Samiria Reserve and interact with people who live their lives along the river, like generations before them.
Animal-lovers will be in their glory as they learn about the area's ecosystem that includes amazing plant life, such as the giant water lily, and spot elusive wildlife. Everything from magnificent gray and pink dolphins. Spot howler, squirrel and bald uakari monkeys, sloths, plus many more amazing creatures, who call this unique part of the world home.
Depending on the itinerary, your Amazon River Cruise will let you visit such incredible places as Lima, with its stunning Government Palace and Cusco, with the Sacred Valley of the Incas. Highlighting the vacation here for many, is legendary Machu Picchu and the ruins, known as the "Lost City of the Incas," for an unforgettable experience. Discover rare sites and beautiful animals on an Amazon River Cruise, which you will remember for a lifetime.
Best Amazon River Cruise Deals
All offers are based on select sailings and categories and are subject to availability at time of booking. All rates are per person based on double occupancy.
Due to the small ship size river cruises book up early and quickly. It is highly recommended to book your river cruise well in advance. All prices and availability are subject to change at any time. Please call to verify the availability and rates.