Danube River Cruise

Danube River Cruise
About Danube River Cruises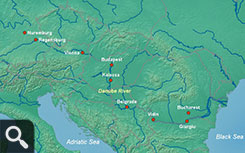 An enchanting Danube River Cruise will take you past fairytale castles, medieval villages, Baroque monasteries, quaint picturesque towns and vineyards. Extending for thousands of miles through Central Europe, the Danube river is synonymous with romance and music. Explore such unforgettable places as Budapest, Nuremberg and Prague. Sail the famous peaceful stretch of the Danube that will take you to Melk and its elegant Golden Abbey and Austria's beautiful castle-studded Wachau Valley, a UNESCO World Heritage Site.
Walk through Regensburg, one of Europe's best-preserved medieval cities, where you can see the 12th- century Stone Bridge and St. Peter's Cathedral. Known as the "City of Waltzes," Vienna is considered the center of classical music, and you can tour the homes of such composers and Brahms, Haydn and Schubert. Fabulous cuisine and pastries are also offered in this sophisticated capital city.
Relax onboard and sip on a fabulous local wine, as small villages and centuries-old towns pass before you. Celebrate the Danube's stunning beauty and history, as you cruise from Nuremberg through the Main-Danube Canal across the Continental Divide on many sailings. Austria's legendary lush Wachau Valley, the world-famous for its fabulous white wines as well as its spectacular scenery.
Incredible experiences await you, such as dinner and music at a Vienna palace, a day in Salzburg, home of Mozart, a tour of a Baroque monastery and other fascinating choices. While in Vienna, visit the Hofburg's lavish Imperial Apartments, the Sisi Museum and tour the opulent Schönbrunn Palace. Tour Prague, the incredibly preserved "City of Spires," and visit the magnificent State Opera House and St. Vitus Cathedral. Considered one of the best-preserved of Europe's medieval towns, Regensburg boasts the treasures of Old Town and the stunning Cathedral of St. Peter, where you will marvel at its stained glass windows. Experience a Danube River Cruise and you will know why a waltz was written about this beautiful region.
Best Danube River Cruise Deals
All offers are based on select sailings and categories and are subject to availability at time of booking. All rates are per person based on double occupancy.
Due to the small ship size river cruises book up early and quickly. It is highly recommended to book your river cruise well in advance. All prices and availability are subject to change at any time. Please call to verify the availability and rates.