Elbe River Cruise

Elbe River Cruise
About Elbe River Cruises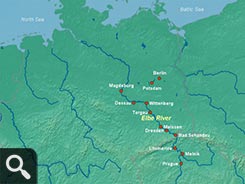 An Elbe River Cruise takes you back into time, past historic cities as you sail past beautiful landscapes. Explore the cities of Prague, Dresden and learn about the history of the Saxon monarchy as you visit the opulent palaces.
Stroll through Berlin, Potsdam and Magdeburg to get a first-hand look at these historic cities. Follow Martin Luther's footsteps as you visit Wittenburg and take a tour of his house and of St. Marien's Church where he wrote his 95 Theses. In Meissen guests can visit the Meissenware Factory to see how Meissenware has been made for centuries.
Throughout your cruise you can explore the small villages that are visited and immerse yourself in the local culture and customs that are so charming. Onboard relax and enjoy the impressive scenery as the ship sails through the lush river valleys and past the magnificent, soaring rock formations of the Saxon Switzerland region. Throughout your journey you will pass timeless castles which are nestled among vast vineyards, dramatic rock formations, and natural marshland.
Best Elbe River Cruise Deals
All offers are based on select sailings and categories and are subject to availability at time of booking. All rates are per person based on double occupancy.
Due to the small ship size river cruises book up early and quickly. It is highly recommended to book your river cruise well in advance. All prices and availability are subject to change at any time. Please call to verify the availability and rates.