Ganges River Cruise

Ganges River Cruise
About Ganges River Cruises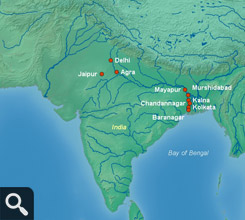 Traveling to India is an adventure not to be missed. It is a once in a lifetime opportunity to visit one of the most incredible places that you can imagine. India is a vibrant country which boasts a rich history, diverse cultures, incredible palaces and arts. The people of India are warm and friendly and the service throughout is exceptional.
What better way to explore India than on a deluxe river cruise. Your journey begins on land in Delhi as you see some of the Delhi's most noted sights. The journey continues as you transfer to Agra, the home of the Taj Mahal. The Taj Mahal is simply breathtaking. It is a monument to a king's true love for his wife and is simply stunning as it glistens in the glistening sunlight. Also in Agra is the Red Fort, a massive fortress that defended the city for many centuries.
From Agra a visit to Jaipur is not to be missed. Known as the Pink City, Jaipur was once the home to India's Royal family. The City Palace is an immense complex which houses the world's largest sundial and other astronomical instruments. A flight from Jaipur will take you to Kolkata where your luxurious cruise on the Ganges river begins.
As the Ganges river unfolds so will more of India's rich culture, heritage and diversity. India is home to a variety of religions with the most popular being Hinduism, Sikhism and Muslim. Throughout India you will visit a variety of temples and mosques which date back for centuries. In Kolkata you will visit Mother Theresa's home as well as getting a glimpse of what India was like during the British Colonial period. Explores the colorful markets and take in the smell of incredible spices. Watch artisans at work creating crafts that are local to each area.
The energy and warmth of India is amazing and at the end of each day you will return to your luxury river ship to share your memorable experiences and get ready for yet another incredible day.
Best Ganges River Cruise Deals
All offers are based on select sailings and categories and are subject to availability at time of booking. All rates are per person based on double occupancy.
Due to the small ship size river cruises book up early and quickly. It is highly recommended to book your river cruise well in advance. All prices and availability are subject to change at any time. Please call to verify the availability and rates.