Rhone River Cruises

Rhone River Cruises
About Rhone River Cruises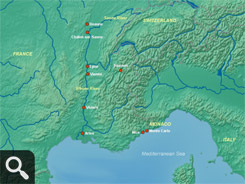 A Rhône River Cruise awaits you with incredible experiences and sights in the romantic South of France. Running through France and Switzerland and flowing south into the Mediterranean Sea, this magical waterway will take you to exciting destinations in the lush Rhône Valley.
Along France's Rhône River, indulge in the world-renowned Burgundy wines, sip fabulous Beaujolais and Côtes du Rhône wine and explore the fascinating wine region of Chateauneuf-du-Pape, the "pope's new castle," one of the most renowned appellations of this area, a dream come true for the oenophile.
Cruise to gastronomic capitals and sample famous vintages, ideal for the culinary cruiser. Discover the amazing culture, history, breathtaking scenery, orchards and vineyards that produce some of the world's most exceptional wines, endless culinary delights and legendary works of art. See all this and much more in this truly magnificent region. Many of these exciting Rhône River Cruises begin on the exquisite French Riviera, also known as the Côte d'Azur.
Considered the "culinary capital of France," Lyon is also home to the magnificent St. Peter's Palace, the famous Notre Dame de Fourviere Basilica and the vertical gardens. See for yourself some of Vincent Van Gogh's favorite views and lighting while in Arles, in the Provence region, a UNESCO World Heritage Site, immortalized by Van Gogh in over 300 of his paintings and drawings. Visit the Pope's Palace in Avignon and marvel at the Abbey of St. Philibert while in Tournus and in Viviers, visit the Old Town and the stunning cathedral. Sail through such delightful places as the serene Camargue area, Vienne, Mâcon, Tournus and Chalon-sur-Saône.
Savor exquisite culinary selections and wine in fascinating Beaune, the "capital of Burgundy wines," in the Côte d'Or region of eastern France, perfect for epicureans. Stroll the legendary vineyards and taste the delightful vintages, as well as local cheeses. Dine on incredible cuisine, sip on Beaujolais in Beaujolais and visit amazing food markets. See spectacular France at its very scenic best on a charming and incredible Rhône River Cruise.
Best Rhone River Cruise Deals
All offers are based on select sailings and categories and are subject to availability at time of booking. All rates are per person based on double occupancy.
Due to the small ship size river cruises book up early and quickly. It is highly recommended to book your river cruise well in advance. All prices and availability are subject to change at any time. Please call to verify the availability and rates.