Tulip Cruise

Tulip Cruise
About Tulip Cruises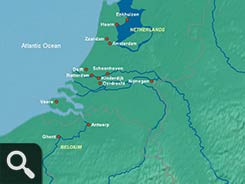 Magical sights await you on a fabulous Tulip Cruise, as you glide along the storied waterways of the Netherlands and Belgium, to the enchanting land of windmills, canals, history-rich towns and quaint villages. See the works of art by the Dutch Masters and visit the legendary Anne Frank House. Stroll down the cobblestone streets and open markets as you step back into time. Visit Arnhem, the site of one of World War II's most famous battles and experience Belgium's Golden Age. Shop for famous Delft pottery and be tempted by scrumptious Belgian chocolates, the perfect gift to bring back home.
Select from a wide variety of spectacular ships and enjoy luxurious accommodations, delicious gourmet cuisine highlighting regional specials and wines and delightful entertainment, often by local talent. A tulip cruise is the ultimate way to see the beautiful Dutch waterways. Let the kaleidoscope of colorful flower beds inspire you and be sure to visit the world famous Keukenhof Gardens, which comes alive each spring with more than 7 million flowers.
With many sailings departing roundtrip from Amsterdam, Tulip River Cruises offer the ideal way to visit such special places as the windmill area of Kinderdijk, plus Middleburg, Rotterdam and Veere. Explore history-rich medieval cities as Ghent and Brugge and shop for a few sparkling treasures in Antwerp, the diamond center of the world. Each day you can choose from a variety of excursions or explore the towns and villages on your own. Complimentary excursions are usually offered in each port.
Offered between late March and early May, these delightful Tulip Cruises usually range from 7 to 10 days. Back to back cruises offer additional insights into the history, culture and sights. All this and more await you on an incredible Tulip Cruise sure to create beautiful memories to last a lifetime.
Best Tulip Cruise Deals


All Inclusive Luxury River Cruises


All Inclusive Luxury River Cruises
All offers are based on select sailings and categories and are subject to availability at time of booking. All rates are per person based on double occupancy.
Due to the small ship size river cruises book up early and quickly. It is highly recommended to book your river cruise well in advance. All prices and availability are subject to change at any time. Please call to verify the availability and rates.