Tahiti Cruise

Tahiti Cruise Vacations
About Tahiti Cruises
A cruise to Tahiti takes you to the soul of the South Pacific. Here you can enjoy the beautiful white sand beaches and the ocean breezes and the tranquil turquoise waters. Tahiti captured the heart of Paul Gauguin and he captured the charm, culture and natural beauty that you can experience when you take a Tahiti cruise.
Tahiti is filled with many spectacular lagoons surrounded by palm fringed beaches. The underwater beauty in Tahiti is unsurpassed. Here you can snorkel or scuba dive in the waters that are home to black pearls, coral gardens and a dazzling array of marine and plant life that is among the most diversified in the world.
Or, if you prefer, you can go kayaking, wave-running take a deep sea fishing trip, take a dolphin watching expedition or a glass-bottom boat tour. On land you can explore the tropical gardens, waterfalls and rivers that help to make Tahiti a true paradise.
Cruises to Tahiti range from 7 to 35 days with departures leaving from Los Angeles, Papeete, San Diego, Seattle, Sydney and Vancouver. Call now or book online to receive discounts, onboard credits, upgrades and more on your next Tahiti Cruise.
Best Tahiti Cruise Deals
All offers are based on select sailings and categories and are subject to availability at time of booking. All rates are per person based on double occupancy.
Tahiti Cruise Highlights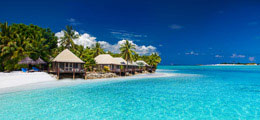 Beautiful Beaches
Tahiti's sugary white beaches are some of the most beautiful in the world. Here you can relax and rejuvenate as you are mesmerized by the warm tranquil waters.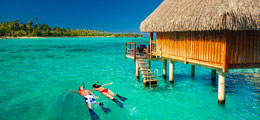 Snorkeling and Scuba
The spellbinding shades of blue welcome snorkeling and scuba enthusiasts. There are many places from shallow lagoons to deep water dive sites where both beginners and advanced divers can explore exotic coral reefs, sunken vessels, and schools of brilliantly colored fish and sea animals.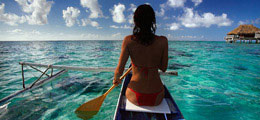 Water Sports
Tahiti is a water lover's paradise. On a Tahiti cruise you can enjoy jet skiing, wind surfing, parasailing, waterskiing, kite boarding, surfing and more.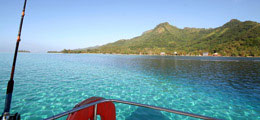 Deep Sea Fishing
Sail into the deep ocean waters of Tahiti on a deep sea fishing excursion, In Tahiti there is an abundant selection of game fish including marlin, yellow fin tuna, sailfish, swordfish, mahi-mahi, barracuda and other pelagic fish.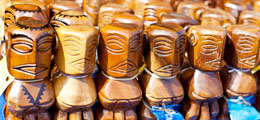 Tahiti Art, Culture and Heritage
The Tahitian culture has flourished over the centuries. The Polynesian culture has no written language and it is their art which allowed them to communicate. Another aspect to their culture is their elaborate dance performances that are an important part of their history and culture. There are a number of historical and archeological sites including viewing the site where James Cook landed in 1777.