Cruise from Seattle

Cruise from Seattle
Cruises from Seattle, Washington
A cruise from Seattle is a great option to get away on a cruise vacation. Cruises from Seattle range from 1 to 75 days and include Alaska cruises, South Pacific cruises and Panama Canal cruises. Many of the Alaska cruises offered depart from Seattle. Guests flying into Seattle to take a cruise might enjoy a pre or a post cruise package to take advantage of Seattle's many great attractions, restaurants and its wonderful downtown area. Those lucky enough to live within driving distance can also get some great last minute cruise deals when they cruise from Seattle.
Featured Cruises from Seattle
Seattle Highlights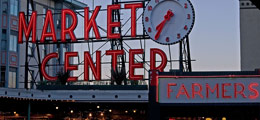 Shopping
A visit to Seattle would not be complete without a visit to the waterfront. Visit the iconic Pike's Place Marketplace and stroll through the many shops., filled with fresh produce, baked goods and crafts.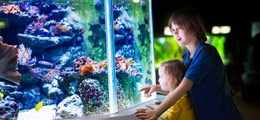 Seattle Aquarium
The Seattle Aquarium brings the sea to life and is filled with interactive exhibits that kids and adults can all enjoy. It provides fun and exciting ways to see, touch and explore the underwater world of the northwest and beyond.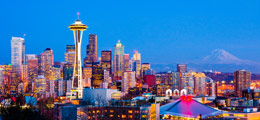 Space Needle
Standing at 620 feet tall, the Seattle's Space Needle offers incredible views of the Seattle skyline and also spectacular views of the Olympic and Cascade Mountains.