Azamara Cruises

Azamara Cruises
About Azamara Cruises
Azamara Cruises offers an upscale cruise experience for discerning travelers seeking to explore new and out of the ordinary cruise destinations. The itineraries are designed with longer stays in each port and more overnight stays in order to allow travelers to truly immerse themselves in the local culture and to gain a much deeper understanding of the ports that are being visited. Their itineraries can often be combined with very special overland packages which are rarely offered by other cruise lines.
Azamara truly focuses on the destination and because their ships are smaller they are able to get into many ports that larger cruise ships are not able to visit. Azamara's onboard enrichment programs, designed to further enhance each guest's cruise experience, include informative lecture series covering a wide variety of relevant topics and e-learning classes such as digital photography.
With a maximum of 694 guests, Azamara's two ships, the Azamara Quest and the Azamara Journey, provide an intimate cruise experience. They offer impeccable service, gourmet dining and a warm and inviting atmosphere.
Onboard Azamara pampers their guests with luxurious European bedding, Egyptian cotton linens and bathrobes, wireless internet access, flat screen televisions and many other amenities which make you feel right at home throughout your journey.
Azamara's fine regional cuisine and world-class wine cellars will delight even the most seasoned travelers. You can choose to dine in the main restaurant with open seating or choose one the specialty restaurants where every meal is a culinary masterpiece. Need a bit of relaxation? Visit Azamara's world class spa and fitness center.
Call now or book online to receive exclusive rates, special deals and extra amenities on your next Azamara cruise.
Featured Azamara Cruise Deals
Azamara Cruise Ship Profiles, Deck Plans and Public Areas
Azamara Cruise Highlights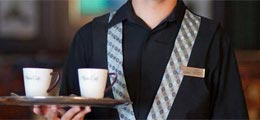 Amenities
The amenities of an Azamara Cruise abound. All guests boarding an Azamara cruise will receive complimentary gratuities, specialty coffee and teas, bottle water and soft drinks, transfer shuttles in ports where available, wine with lunch and dinner, and an onboard concierge. Suite guests will also receive complimentary dining in the specialty restaurants and butler service in their suites.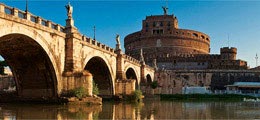 Destinations
Unique destinations are truly a strong suit of Azamara. They include many ports where other cruise lines simply do not call on. When designing their itineraries, Azamara includes longer stays and many more overnights. The goal is to allow guests to really immerse themselves into a city, to learn its culture and its history, sample local foods and discover many of the hidden treasures that await them.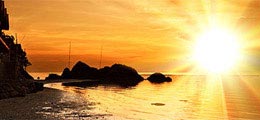 Shore Excursions
The destinations are everything on an Azamara cruise. The shore excursion programs offered by Azamara allow guests to embrace each port in-depth by taking them to the heart of each port, exploring local cultures, savoring exotic flavors and redefining the way one views the world.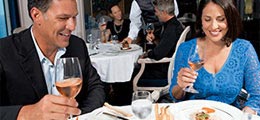 Gourmet Dining
Dining onboard Azamara is a culinary delight. The gourmet menus include classic favorites combined with regional favorites. Guests can choose to dine in the main restaurant with open seating or in one of Azamara's specialty restaurants, Aqualina, inspired by the cuisine of Italy, or Prime C, serving prime beef and fresh seafood.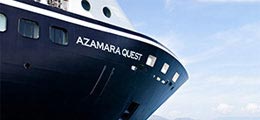 Intimate Ships
Azamara's two ships, the Azamara Quest and the Azamara Journey, each accommodate just 690 guests. The cruise experience on these ships is intimate and impeccable service is experienced from the moment you board. Both ships exude style and are filled with luxurious amenities and a warm and inviting atmosphere.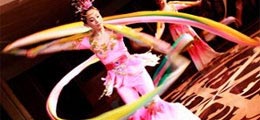 Enrichment Programs
Azamara's onboard enrichment programs further enhance the opportunities for guests to make the most of the ports that they visit. Each port is highlighted by a destination expert providing in-depth knowledge highlighting the history, culture, cuisine, etiquette, art and more. Throughout the cruise the guests can also polish their skills in other areas such as digital photography, Microsoft classes and more.
Additional Azamara Club Cruise Information