Costa Cruises

Costa Cruises
About Costa Cruises
A Costa Cruise is the ideal way to enjoy La Dolce Vita, the Sweet Life or the Good Life. A Costa Cruise is a wonderful family vacation option with menus, activities and different entertainment options for kids, parents, and grandparents. The kids will love the Costa Kids Program where pizza parties, treasure hunts, dances and other activities will keep them saying "Grazie." While younger cruisers are busy having a wonderful time, make your way to Samsara Spa for a fantastic menu of indulgent treatment options.
Dining is a delight with numerous options including fine dining, traditional and À la carte venues. Hot and fresh pizza, perfectly prepared sushi, mouth-watering barbeque, regional specialties, a chocolate and coffee bar, afternoon tea are among the delicious choices. Children will love having menus designed with their tastes in mind. Expand your culinary skills in an interactive cooking demonstration.
Evenings are laden with captivating entertainment and activities to keep everyone happy. Take a seat in the theater for nightly performances, dance into the wee hours in the disco, snap and tap to hip jazz, enjoy a stogie in the cigar bar, relax as talented musicians tickle the ivories at the piano bar or indulge in your favorite games of chance in the bustling casino.
After each day packed with all the vacation pleasures you dream of, retire to your stateroom, an oasis of comfort. You'll discover many desirable amenities including satellite television, air-conditioning, an in-room safe plus a charming cabin attendant is at your service. Spacious, well-appointed and furnished for comfort to make your cruise an enjoyable experience.
Costa Cruises sails throughout the world. Ranging from short getaways to World Tours, destinations include the Caribbean, Europe, Asia, Africa, South America and the Middle East.
Call now or book online to receive exclusive rates, special deals and extra amenities on your next Costa cruise.
Costa Cruise Ship Profiles, Deck Plans and Public Areas
Costa Cruise Highlights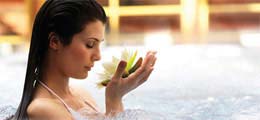 La Dolce Vita
All guests who board a Costa Cruise will experience the Good life or La Dolce Vita. Savor the food, be pampered in the spa, explore unique itineraries or relax as you view the horizon from your balcony stateroom.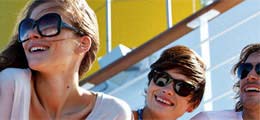 Family Cruising
A Costa Cruise is a wonderful way to spend vacation time with your family. There are a variety of cabins to choose from and lots of activities for kids and adults alike. A cruise is an easy, hassle free way for the whole family to visit multiple destinations without having to pack and unpack. What can be better than that?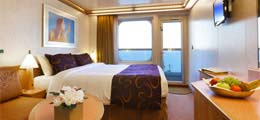 European Hospitality
From the moment you step on board a Costa Cruise ship you will be greeted with Italian warmth and hospitality. Their Italian heritage and style is seen throughout the ship. Their dining options also features Italy's delicious cuisine.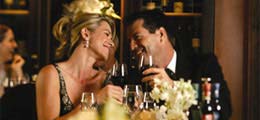 Romance
Romance at sea is easy aboard a Costa Cruise. Relax on your private balcony as you look out at the sea. Enjoy a couple's massage in the spa. Savor the flavor of a candlelit dinner for two. So whether you are enjoying a honeymoon, an anniversary or just enjoying a relationship a Costa Cruise sets the right mood for your romantic getaway.