Hurtigruten Cruises

Hurtigruten Cruises
About Hurtigruten
Discover the world with Hurtigruten — a leader in exploration cruising — providing adventure cruisers unparalleled experiences for over 125 years. Once only sailing along the breathtaking Norwegian coast, today, this expedition fleet offers voyages to incredible worldwide destinations, including Polar Regions. Cruise to such diverse and fascinating places as Norway, Antarctica, Iceland and Greenland, the Americas, and the Caribbean, among others.
Award-winning voyages with Hurtigruten take you far beyond the ordinary. Various sailings, including Antarctica and Greenland, are enhanced by thrilling landings led by the Expedition Team, who guide you on every sailing. Environmentally conscious, the line has the first hybrid electric-powered "green" expedition ship.
Their ships feature a large lounge with gorgeous panoramic views. Select ships feature a pool, outdoor hot tubs, a gym, sauna, library and multiple dining venues. After an exhilarating day of exploration, retire to your Scandinavian-designed cabin or suite and settle down with fine linens and plush duvets.
Showcasing the gorgeous scenery and culture of unique destinations, Hurtigruten offers enriching onboard activities, presentations and demonstrations. Relaxed and informal, you'll appreciate that there's no required dress code. Intimate spaces are the ideal setting to strike up conversations with like-minded guests as you share your sense of fun, adventure and travel. This convivial onboard atmosphere optimizes opportunities to socialize or simply enjoy time on your own.
Throughout your voyage, a vast range of shore adventures complements your visit fostering the creation of cherished memories. These excursions include visits to cultural sites, kayaking and many more. Lectures on all manner of topics at the Science Center offer further insight on wildlife, geology, biology among other subjects of interest.
Immerse your palate in the journey as well. Indulge in dishes from specially created menus reflecting the various cultures along your itinerary. Buffet-style breakfasts, savory lunches and sit-down dinners are highlighted by locally sourced, delicious, regional specialties. Familiar favorites are also available to satisfy every taste and preference.
Cruise with Hurtigruten to some of the world's most fascinating destinations.
Featured Hurtigruten Cruises
Hurtigruten Cruise Highlights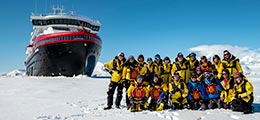 EXCELLENT EXPEDITION TEAM
Hurtigruten's Expedition Teams are some of the finest in the world. Highly-trained experts serve as your invaluable hosts onboard, on landings and ashore. Enhancing your explorations, they share their vast knowledge and are dedicated to creating an educational and relaxed ambiance. Explorers have the opportunity to travel with meaning, as cruises were created for those who value learning and personal growth. Immerse yourself in your destination with small-boat cruising, as well as onshore exploration with your expedition team.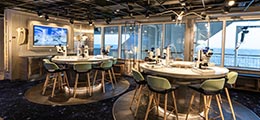 SCIENCE CENTERS
At the heart of each ship, is a dedicated Science Center, offering a variety of scientific and educational activities. Guests have the opportunity to attend captivating lectures on such diverse topics as biology, geology, history, glaciology, oceanography and photography. Whether looking how to spot wildlife from the observation deck or questioning how a destination came to be, the gracious team leaders will be glad to assist you. Hurtigruten's acclaimed Citizen Science program further benefits explorers by scheduling activities according to specific interests of guests.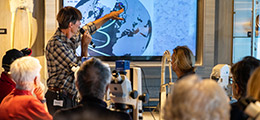 ENTICING ONBOARD ACTIVITIES
Designed for the adventure cruiser and explorer, engaging onboard activities provide a unique insight into your destinations. Enjoy fascinating in-depth lectures by experts in such fields as history, culture, biology, geography, geology and more. Demonstrations and presentations will offer a connection to places visited. Bring back great shots of your breathtaking sites with hints from an introductory photo lecture that includes camera tips and tricks. Relax with a travel book from the library and enjoy the informal atmosphere of the lounges as you strike up new friendships with like-minded passengers.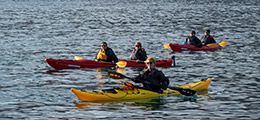 MORE OPTIONS TO EXPLORE
Adventures abound with Hurtigruten. Get out and explore some of the most fascinating places on earth. From kayaking on an iceberg and camping under the Antarctic sky, to photographing spectacular wildlife in their natural habitats, amazing experiences are waiting for you. Take part in a variety of thrilling excursions as well as Land Adventures offered before and after your cruise.