MSC Cruises

MSC Cruises
About MSC Cruises
MSC Cruises brings the world to you with true Italian hospitality. Their ships combine true European charm with Italian style and elegance. Their cruise itineraries will take you to ports both near and far.
Dining is always a special occasion and one to be savored. Their seven course menus are created using only the freshest ingredients and include a different regional Italian specialty each evening. The main dining room features an elegant, European atmosphere. For a change of pace MSC offers alternative specialty restaurants on most ships such as a sushi restaurant, a Chinese restaurant or a Tex-Mex restaurant. The authentic pizzeria cannot be beat. There are savory delights served at the midnight buffet.
Activities abound on board an MSC cruise. There is family fun at the Aqua Park. Kids will enjoy the WII and the 4-D Theater. Kids and adults may want to try their skill at simulated Formula I racing. Plus, kids sail free all year long! Adults may want to participate in an art auction. The whole family may want to take a try at bowling. As the sun goes down, the fun continues. Evening entertainment on an MSC cruise includes world-class theater performances each night. After the show guests can enjoy music and dancing.
The staterooms are spacious, elegant and offer large closets and ample storage space, mini-bar, safe, hair dryer and wireless internet access. The suites feature a sitting area with a couch leading out to the balcony.
For those truly seeking luxury MSC is now offering the MSC Yacht Club on its newest ships including, the MSC Fantasia, the MSC Splendida, and the MSC Divina. This ship within a ship is a haven of luxury featuring magnificent accommodations, exclusive amenities, an opulent 24-hour concierge lobby, butler service, a private restaurant and lounge area, a private pool and complimentary wines and spirits.
MSC Cruises operates 12 ships throughout the world. Ranging from 2 to 22 days, they offer over 275 itineraries which sail to the Caribbean, the Mediterranean, northern Europe, the Middle East, Africa, and South America.
Call now or book online to receive exclusive rates, special deals and extra amenities on your next MSC cruise.
MSC Cruise Ship Profiles, Deck Plans and Public Areas
MSC Cruises Highlights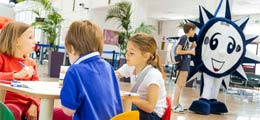 Family Cruising
There is no better family vacation than a cruise. The ease and comfort of cruising cannot be matched and the activities on board an MSC Cruise make it an exciting and enjoyable experience for the entire family. MSC offers many activities for kids and on many sailings, kids even sail free.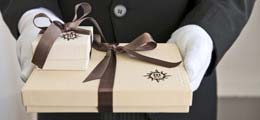 Yacht Club
MSC recently introduced a new level of luxury with the exclusive Yacht Club, a private complex within a ship, on their two newest ships, the MSC Splendida and the MSC Fantasia. The MSC Yacht Club is a private haven offering privacy and personalized service, luxury designer suites, exclusive butler and concierge service, complimentary gourmet dining in the Yacht Club's private restaurant, complimentary wine, spirits and other beverages, and luxurious suite amenities.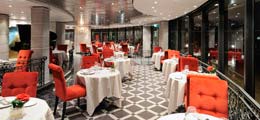 Dining
There is nothing like La Cucina Italiana, Italian Cuisine or literally and Italian Kitchen and no one knows Italian cuisine like MSC Cruises. A medley of fresh Mediterranean flavors and ingredients are what make Italian gourmet so delectable. The talented chefs will amaze guests with their menus on all meals throughout the cruise. Dining is a true experience on an MSC Cruise.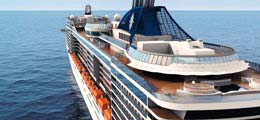 Unique Itineraries
The ships of MSC travel the globe and reach many unique ports that other ships do not visit. In addition to the Caribbean, Canada and New England, and Europe, MSC also takes guests on cruise adventures in South America, the Middle East and Africa. Imagine cruising to Casablanca, Cape Town or Dubai while experience the comfort of MSC's Italian hospitality. Simply Magnificent!
Additional MSC Cruise Information