Great British Cities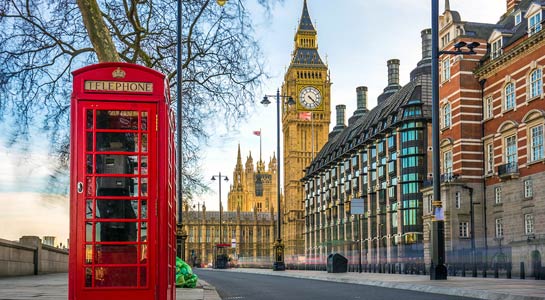 Great British Cities
Explore Britain's greatest cities of London, Edinburgh and York for an in depth view of Britain's history and culture. In addition, get local flavor as you stroll through the smaller villages and towns of St. Andrews and Stratford-upon-Avon, Shakespeare's birthplace. Visit castles and take a steam locomotive ride through Yorkshire and enjoy the beautiful scenery.
The 9 day Great British Cities tour from CIE Tours delivers on the promise to bring these amazing British cities to life. Watch locations go from the pages of your high school history books to the land beneath your feet as you make your way from London up the coast of the United Kingdom. Along the way you'll stay in some of the best hotels in all of Europe as you embark on your 9 day Great British Cities tour from CIE Tours.
9 Days • fr. $2,569
Tour Highlights & Offers
Important information:
All rates listed are per person based on double occupancy and are subject to change without notice. Your land package pricing will be confirmed and guaranteed once your deposit is received and applied to the booking, except where price increases may result from increases in government taxes or fees. Room configurations are subject to availability. Guests added to your party after the booking are priced at the prevailing rate at the time they are added.
Important Information
ALL guests must carefully verify the existing identification requirements for their particular travel situation DIRECTLY WITH THEIR LOCAL CONSULATES OR EMBASSIES or with a visa service, as these requirements may change. Guests without proper documentation may be denied entry and will not be entitled to a refund
Cancellation Policy
70 days or more prior to departure: Forfeiture of deposit
69 - 46 days prior to departure: 25% per person
45 - 8 days prior to departure: 35% per person
7 - 1 days prior to departure: 50% per person
On day of departure: 100% per person
All cancellations must be received in writing prior to tour departure. The cancellation policy will apply according to the date that the cancellation notification is received. The MINIMUM cancellation penalty is the deposit amount.
The purchase to trip cancellation insurance is strongly recommended.
Terms and Conditions
Land only "from price" is per person based on two people sharing a room together.
All prices are in US Dollars.
A non-refundable land deposit of $250 per person is required for coach tours. Deposits are required within 5 days of making the reservation. Early booking discounts require higher deposits.
The final payment must be made by credit card no later than 80 days prior to departure date. If payment is not received as scheduled, the reservation will automatically cancel and deposit payment become forfeit.
Once confirmed any revision to land tours will incur a $50 handling fee per booking. If clients cancel from one tour and rebook on another tour or another date, a cancellation fee may apply. Revisions are not permitted within 14 days of departure or once documents have been issued.
Documents will be shipped by U.P.S. ground service approximately 21 days prior to departure provided full payment has been received. If documents are required earlier, sufficient notice id required to arrange for early delivery by regular service. Late bookings will incur an express service delivery charge.