Empire of the Incas: Peru & Bolivia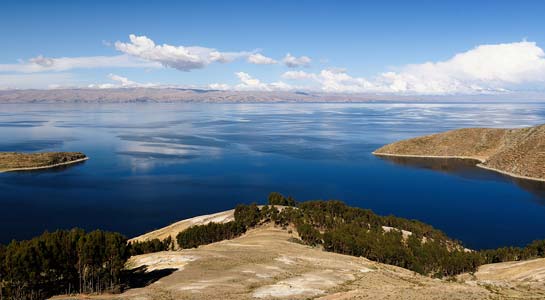 Empire of the Incas: Peru & Bolivia
The Empire of the Incas: Peru and Bolivia tour is a luxury 12 day adventure to the ancient Incas. Experience Machu Picchu and Lake Titicaca up close and in person as you make your way through the pages of history. This Tauck World Discovery tour is full of exclusive opportunities, expert guides and more.
This tour can bring your dreams of Peru and Bolivia to life hitting some of the most popular locations in South America along the way. One of the most memorable experiences on your Tauck Empire of the Incas: Peru and Bolivia tour is the time spent on the floating islands of Lake Titicaca. The locals there are continuing a way of life that began for their people many generations ago. You'll also get a personal Peruvian cooking lesson from a local family. This amazing luxury travel tour packs the experiences of a lifetime in just short of two weeks as you traverse Peru and Bolivia.
12 Days • fr. $6,590
Important information:
All rates listed are per person based on double occupancy and are subject to change without notice. Your land package pricing will be confirmed and guaranteed once your deposit is received and applied to the booking, except where price increases may result from increases in government taxes or fees. Room configurations are subject to availability. Guests added to your party after the booking are priced at the prevailing rate at the time they are added.
Reserve your preferred 2020 departure date and we will advise you once the 2020 trip is finalized and priced. You will then have two weeks to cancel; should you cancel, you'll receive a full refund of your trip deposit and the cost of the Travel Protection Product (if purchased with Tauck Tours). If you are making your own air arrangements, do not book your flights until this trip is finalized as start and end cities may change.
Important Information
ALL guests must carefully verify the existing identification requirements for their particular travel situation DIRECTLY WITH THEIR LOCAL CONSULATES OR EMBASSIES or with a visa service, as these requirements may change. Guests without proper documentation may be denied entry and will not be entitled to a refund
Cancellation Policy
60 days or more before departure: $700.00 per person
59-30 days before departure: $1400.00 per person
29-1 days before departure: $2000.00 per person
On departure day and later: 100% of total price
Any changes or cancellations to airline reservations made through Tauck either before or after departure are subject to the cancellation / change policies of the individual airlines. In n some instances these cancellation / change fees may be up to 100% of the ticket price.
Cancellation fees may also apply to any additional services, including extra night accommodations, independently supplied services, and optional excursions reserved prior to, during, and after the tour. If flight changes, including, but not limited to, flight cancellations or name changes, are requested after full land and air deposits are received, revision fees, change fees, or airline cancellation fees will apply.
All cancellations must be received in writing prior to tour departure. The cancellation policy will apply according to the date that the cancellation notification is received. The MINIMUM cancellation penalty is the deposit amount.
The purchase to trip cancellation insurance is strongly recommended.
Terms and Conditions
Land only "from price" is per person based on two people sharing a room together and does not include airfare unless expressly stated.
All prices are in US Dollars.
A $700 non-refundable, non-transferable, per-person, per-vacation deposit is required to reserve space for you. Payment of the deposit indicates you have read and accepted all Terms & Conditions. Your booking is not confirmed until the deposit payment is processed and you receive a confirmation invoice.
Final payment is due 75 days prior to departure. Within the final payment date, payment in full is required at time of booking to reserve space. Reservations (land, cruise, and air) are canceled if final payment is not received by the due date.
Additional deposits or payments are required for international air added to the start and/or end of your vacation.