Castles and Manors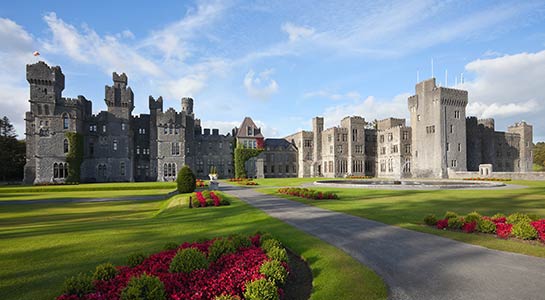 Castles and Manors
Explore the allure of the Emerald Isle like royalty on a Castles and Manors Tour. As you travel from Dublin captivating highlights include the Cliffs of Moher, overnights in castles, the spectacular Ring of Kerry, indulge in Banoffee and Baileys, witness the carving of Connemara marble, Torc Waterfall, enjoy a rare opportunity to see the foaling unit along with the magnificent stallions at Irish National Stud and more.
Travelers choose to visit Ireland time and again for a multitude of reasons, this escorted tour beautifully showcases quite a number of them. From lush greenery, jagged cliffs and precious puffins to ancient castles, rich culture and proud heritage, you'll be smitten. A visit to Irish National Stud includes a rare opportunity to see the foaling unit, museum and magnificent stallions part of continued racing history. See the ecclesiastical ruins at Rock of Cashel. Explore the walled Victorian garden at Kylemore Abbey, once a family home, now inhabited by a group of Benedictine nuns. Learn about Grace O'Malley, the Pirate Queen of Ireland. Marvel at Galway Cathedral and meander through centrally located Eyre Square. At the Cliffs of Moher Visitor Experience you'll learn about this breathtaking UNESCO-listed site after first-hand viewing of their dramatic plunge into the Atlantic waters waiting below. Dream royal dreams during the nights you sleep in castles. Decide for yourself if meals served in castles taste better than elsewhere. This magical adventure, along with the new friends you make along the journey, will live on in your heart for years to come.
8 Days • fr. $2,835
Tour Highlights & Offers
Important information:
All rates listed are per person based on double occupancy and are subject to change without notice. Your land package pricing will be confirmed and guaranteed once your deposit is received and applied to the booking, except where price increases may result from increases in government taxes or fees. Room configurations are subject to availability. Guests added to your party after the booking are priced at the prevailing rate at the time they are added.