Mediterráneo

Cruceros al Mediterráneo y el Sur de Europa
Cruceros Destacados al Mediterráneo
Embarcarse en un crucero por el Mediterráneo es como ser llevado en una odisea romántica. El Mediterráneo le dará la bienvenida con cálidas brisas, brillantes aguas azules, pescados y mariscos frescos, las ciudades medievales y la cultura europea combinan para crear unas vacaciones relajantes y esclarecedor. Cruceros por el Mediterráneo ofrecen muchas opciones de puertos, grandes y pequeños. Usted será capaz de escapar de las multitudes, si usted elige un barco lo suficientemente pequeño como para caber en los puertos más íntimos.
Debido a que los puertos del Mediterráneo son tan cerca uno de otro, se puede visitar un país diferente cada día y realmente llegar a entender la cultura y la historia de cada puerto del sur de Europa que visite. La mayoría de los cruceros Mediterráneo incluyen una o dos días en el mar para descansar, relajarse y tomar el sol también.
Visitar el Mediterráneo, sin tomar un crucero es perderse una parte importante de la experiencia del sur de Europa. Para los descuentos de cruceros del Mediterráneo utilice nuestra búsqueda de datos que contiene cientos de ofertas de crucero por el Mediterráneo.
Cruceros al Mediterráneo
All offers are based on select sailings and categories and are subject to availability at time of booking. All rates are per person based on double occupancy.
Aspectos destacados sobre el Mediterráneo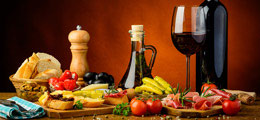 Vinos y Gastronomía
El sur del Mediterráneo ofrece una gran variedad de cocina local y vinos finos. Disfrute de deliciosas tapas españolas, pastas italianas fabulosas o muchas de las especialidades regionales. Añade los vinos locales increíbles y licores producidos en las ciudades y los pueblos del sur del Mediterráneo y su crucero en sur del Mediterráneo puede ser una delicia para los amantes de la comida.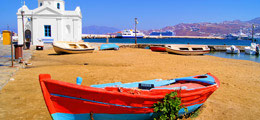 Las Playas y Pintorescos Pueblos
Las playas del Mediterráneo evocan romance. Encalados pueblos hacen contraste con los mares azules. Cafés al lado del mar salpican el paisaje. Los pintorescos pueblos que saludan a los visitantes y les dan la bienvenida con los brazos abiertos y una actitud relajada hacen para una aventura perfecta.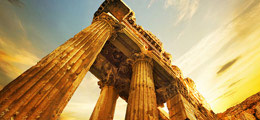 Arte y Arquitectura
El sur del Mediterráneo ha sido lugar de nacimiento e inspiración de muchos artistas y arquitectos. Desde los dibujos de cuevas antiguas, el nacimiento del Renacimiento, hasta el movimiento impresionista de hoy en día, el sur del Mediterráneo ha sido y siempre permanecerá el lugar de nacimiento para los artistas y arquitectos.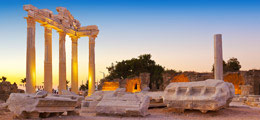 Historia y Arqueología
El sur del Mediterráneo ha estado en el centro de la civilización a través de la historia. Los grandes exploradores como Alejandro Magno, Julio César, San Pablo, Marco Polo exploraron todas las ciudades de la costa. Las historias de las grandes civilizaciones están esperando a ser exploradas. Desde el Imperio Romano a la Tierra Santa un vasto mundo lleno de grandes héroes y cuentos de aventura aguarda a ser oído.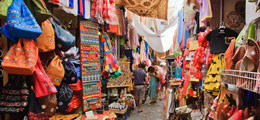 Compras
El Mediterráneo ofrece compras como en ningún otro lugar del mundo. Explora los mercados llenos de alimentos frescos y especialidades locales. Compre joyas hechas a mano, arte, artesanía y recuerdos únicos. Los recuerdos que hizo pueden durar toda la vida.