Costa

Cruceros de Costa
Acerca de Costa
Un crucero de Costa expone el estilo de vida italiana. Es La Dolce Vita, la vida dulce o la buena vida. Un crucero de Costa es perfecto para vacaciones de familia ofreciendo menús, actividades y opciones de entretenimiento diferente para los niños, padres y abuelos. A los niños les encanta el Programa de Niños de Costa donde disfrutarán fiestas con pizza, búsquedas de tesoros y otras actividades para entretenerlos. Los adultos pueden darse el gusto de ser mimados y relajarse en el Samsara Spa.
La cena es una delicia con numerosas opciones que incluyen comidas tradicionales, a la carta en el restaurante Club, pizza, barbacoas en la terraza, un bar de chocolate y café y té por la tarde. Menús para los niños también están disponibles. Aquellos que aman cocinar también puede ser que desee participar en una demostración de cocina.
Por la noche hay un montón de actividades para mantener a todos ocupados. Disfrute de un espectáculo por la noche el teatro, baile toda la noche en la discoteca, escuche jazz, relajese en el bar de cigarros o en el bar de piano o tal vez usted quiere arriesgarse en el casino.
Cuando es hora de retirarse su camarote es un oasis de comodidad, lleno de muchos servicios como televisión vía satélite, aire acondicionado y una caja fuerte en la habitación. Todos los camarotes están decorados en un estilo moderno y su asistente de cabina está a su servicio para hacer su crucero una experiencia agradable.
Costa opera 17 barcos por todo el mundo. Navegando desde 3 a 100 días, sus barcos viajan hacia el Caribe, el Mediterráneo, Medio Oriente, Asia y Sur América.
Llámenos ahora o haga una reservación por Internet para recibir ofertas exclusivas, ofertas especiales y servicios adicionales en su próximo crucero con Costa.
Ofertas de Costa
Receive Up to $400 Off + $200 Onboard Spending: on select categories & sailings
Receive Up to $200 Off + $100 Onboard Spending: on select categories & sailings
Paquetes de bebidas Brindiamo incluidos: en salidas y categorías seleccionadas
Las ofertas anteriores pueden combinarse con sus beneficios de CostaClub. Llame para más detalles.
Cruceros de Costa por Destino
Todas las ofertas están basadas en ciertos viajes y categorías y están sujetas a disponibilidad en el momento de la reserva. Todas las tarifas son por persona en base a ocupación doble.
Aspectos destacados sobre Costa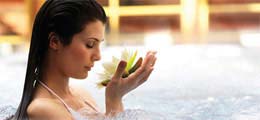 La Dolce Vita
All guests who board a Costa Cruise will experience the Good life or La Dolce Vita. Savor the food, be pampered in the spa, explore unique itineraries or relax as you view the horizon from your balcony stateroom.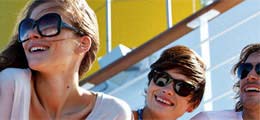 Crucero de Familia
Un crucero de Costa es una manera maravillosa para pasar tiempo de vacaciones con su familia. Hay una gran variedad de cabinas para elegir y un montón de actividades para niños y adultos por igual. Un crucero es una manera fácil y libre de problemas para que toda la familia visite varios destinos sin tener que empacar y desempacar. ¿Qué puede ser mejor que eso?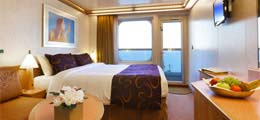 Hospitalidad Europea
Desde el momento que entras a bordo de un barco de Costa usted será bienvenido con la hospitalidad y calidez italiana. La herencia italiana y estilo es visto por todo el barco. Sus opciones gastronómicas también incluye una deliciosa cocina italiana.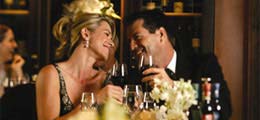 Romance
Romance en el mar es fácil a bordo de un crucero de Costa. Relájese en su balcón privado mientras mira el mar. Disfrute de un masaje en pareja en el spa. Disfrute el sabor de una cena romántica para dos. Así que si usted está disfrutando de una luna de miel, un aniversario o simplemente disfrutando una relación, un crucero de Costa establece el ambiente adecuado para su escapada romántica.