Royal Caribbean Cruises

Royal Caribbean
Acerca de Royal Caribbean Int.
Hace más de un cuarto de siglo, Royal Caribbean International zarpó en un viaje que ha tomado sus barcos hasta los confines de la tierra — y a hecho Royal Caribbean un líder en la provisión de vacaciones en crucero emocionante e inolvidable para millones de personas en el camino. Así que no dejes que nuestro nombre lo engañe.
Itinerarios de Royal Caribbean International han viajado mucho más allá de las pintorescas islas del Caribe. Desde el Mediterráneo hasta Alaska, con más encanto del mundo, los puertos marítimos pintorescos y románticos son nuestros puertos de escala.
Navegando en el nuevo milenio, Royal Caribbean sigue encabezando la industria de cruceros en la innovación. Su nuevo Oasis of the Seas y Allure of the Seas no son sólo buques, sino que son colecciones de experiencias increíbles que desafían todas las limitaciones. Más opciones que nunca incluyen dos simuladores de surf Flowrider®, una tirolina, el AquaTheater, un carrusel, Loft Suites y mucho más. Aquí es donde lo imposible se hace posible y lo inimaginable se hace real. Royal Caribbean le ofrece la mejor experiencia de vacaciones disponibles en cualquier lugar — la tierra y el mar.
Llámenos ahora o haga una reservación por Internet para recibir tarifas exclusivas, ofertas especiales y servicios adicionales a bordo de Royal Caribbean Cruises.
Ofertas de Royal Caribbean
Cruceros de Royal Caribbean por Destino
Todas las ofertas están basadas en ciertos viajes y categorías y están sujetas a disponibilidad en el momento de la reserva. Todas las tarifas son por persona en base a ocupación doble.
Aspectos destacados sobre Royal Caribbean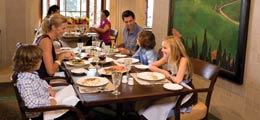 Gastronomia
Las opciones de gastronomia son abundantes en las naves de Royal Caribbean. Cenas tradicionales están disponibles tan bien como cenas en su propio tiempo. Royal Caribbean también ha lanzado un nuevo programa llamado mi tiempo para cenar con la familia (My Family Time Dining). Royal Caribbean ofrece una serie de restaurantes de especialidad incluyendo comida italiana gourmet, un restaurante de carne, restaurantes gourmet asiáticos y una de experiencia gourmet en la mesa del Chef.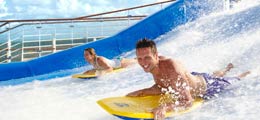 Actividades a bordo
Las naves de Royal Caribbean siempre han sido innovadoras y añadan aventura a las actividades a bordo que normalmente son restringidas a locales terrestres. Imagínese la escalada en roca sobre el Océano Atlántico o Surfing en el FlowRider® mientras viaja por el mar Caribeño. Desafíate a ti mismo en una tirolina o patina sobre hielo en el Mediterráneo. Royal Caribbean extiende la imaginación para crear una de las flotas más innovadoras en el mar.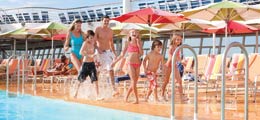 Crucero de Familia
Un crucero de familia es una vacacion en que todos en la familia pueden disfrutar. Royal Caribbean ofrece precisamente eso. Sus galardonados clubs de niños son vigorizantes y educativos. Ofrecen una amplia variedad de alojamientos que funcionan con diferentes dinámicas de familia, muchas opciones de restaurantes que satisfarán incluso a los más exigentes, y una variedad de actividades que mantendrán a todos entretenidos. Y la mejor parte es que la mayoría de todo está incluido.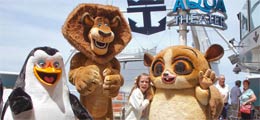 DreamWorks®
Muchos de los aspectos únicos de navegar con Royal Caribbean es su asociación exclusiva con DreamWorks Animation®. La asociación lleva los cruceros de la familia a un nuevo nivel, con estrenos exclusivos de películas de DreamWorks®, comidas con personajes especiales y oportunidades para tomarse fotos espectáculos en vivo como el espectáculo sobre hielo de How to Train Your Dragon y espectáculo acuático de Madagascar.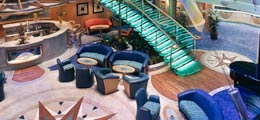 Áreas Públicas
Con sus naves más grandes Royal Caribbean ha realizado verdaderamente sus naves como destinos. Aquí usted puede relajarse en Central Park o ir en el carrusel con sus hijos en el Boardwalk. Un gran éxito con los niños es el parque acuático H2O Zone lleno de fuentes de escultura de agua y una cascada de agua que mantendrá a los niños ocupados por horas.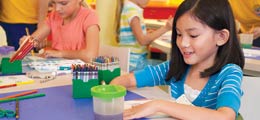 Programas para Niños
Royal Caribbean sabe lo que hace a los niños felices. Han desarrollado un centro especialmente para los niños y adolescentes. El Adventure Ocean Club ofrece diferentes programas para niños de 3—5, 6-8 y 9-11 años. Los adolescentes, por supuesto, tienen su propio programa y esta separado en edades de 12-14 y 15-17 años. Cada grupo tiene diferentes actividades llenas de diversión. Así que los padres pueden ir a buscar su propia diversión!