Caribbean Cruise

Caribbean Cruise
About Caribbean Cruises
A Caribbean cruise feeds the soul and rejuvenates the body. The Caribbean's warm sun, soft beaches and turquoise waters are the perfect prescription for relaxation. Here you can explore the culture and uncover nature's wonder in the beautiful turquoise seas and diverse islands. Find adventure parasailing high above it all or down below, snorkeling or swimming with the dolphins.
Whether you long for tranquility on endless stretches of pristine beach, yearn to explore some of nature's most incredible undersea wonders, or seek adventures high in the mountain rainforests, you'll find it all by taking a relaxing Caribbean cruise.
Your journey will take you to a variety of islands both large and small. In the Eastern Caribbean the ports of call include the Bahamas, St. Thomas and San Juan. The Western Caribbean islands include ports such as Jamaica, the Cayman Islands, Cozumel and Belize. Sailing to the southern Caribbean highlights the ports of Antigua, Barbados, Aruba, St. Lucia and even Curacao.
Caribbean Cruises range from 4 to 30 days on a variety of cruise lines on ships large and small. To find the best cruise deals you can use our Online Search or contact one of our cruise experts to find your perfect Caribbean cruise and take advantage of the many deals, discounts, upgrades, onboard credits and other amenities that are being offered.
Best Caribbean Cruise Deals
All offers are based on select sailings and categories and are subject to availability at time of booking. All rates are per person based on double occupancy.
Caribbean Cruise Highlights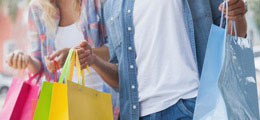 World-Class Shopping
Exceptional shopping is one of the highlights of the Caribbean. Luxury goods, designer fashions, jewelry, cigars, liquor and handcrafted items are just a few things you may want to take home with you from your Caribbean vacation.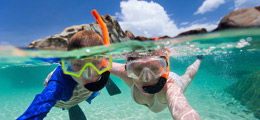 Snorkeling & Scuba Diving
The Caribbean offers world class snorkeling and diving. Enjoy the underwater paradise with its abundant tropical fish, spectacular reefs and other marine life.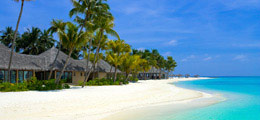 Private Islands
Most cruise lines stop in their own private island offering fun in the sun, pristine beaches, activities for travelers of all ages, water sports, casual dining and more.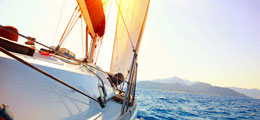 Sailing
Cast away and spend the day sailing in the spectacular Caribbean Sea. Sail past quaint villages, luxurious yachts and take a swim in the Caribbean's incredible blue waters.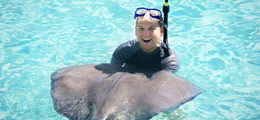 Swimming with the Stingrays
Swimming with the Stingrays is an amazing experience. Enjoy the opportunity to interact, feed, and swim with these beautiful and gentle stingrays!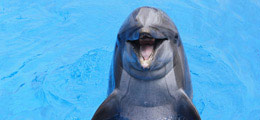 Swimming with the Dolphins
Enjoy the experience of a life time as you swim and play with dolphins. Interact with these amazing creatures for a memory that you'll never forget!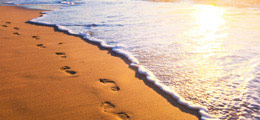 Pristine Beaches
The Caribbean welcomes you to some of the most beautiful and pristine beaches in the world. Relax and de-stress in the intense blue waters as you relax on your Caribbean vacation.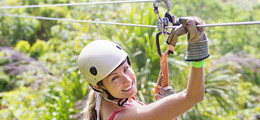 Zip Line Tours
Zip lining offers an incredible eco-tourism experience filled with breath taking views, exhilarating activities and a chance to meet the locals.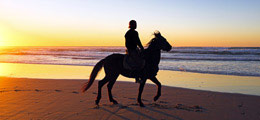 Horseback Riding
Enjoy a relaxing horseback ride along the edge of warm Caribbean Sea. Soak up the sun and enjoy the white sand and crystal clear surf.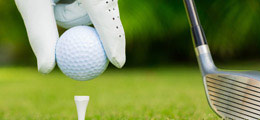 Golf
Some of the best golfing can be found in the Caribbean. The many islands visited on a Caribbean cruise are home to many of the world's top golf courses.