Holland America Cruises

Holland America Cruises
About Holland America
Holland America is a premium cruise line offering an exceptional onboard cruise experience. The 15 mid-sized cruise ships have nearly one crew member for every two guests who provide gracious service that epitomizes classic cruising. The award winning service found on Holland America is evident in all areas including the staterooms, the dining, the public areas and the onboard amenities. The staterooms on all Holland America ships are spacious and elegant and are filled with a number of amenities that create a sophisticated retreat for all guests.
Some of the amenities include luxurious beds and linens, large and extra-fluffy Egyptian cotton towels, luxurious terry cloth bathrobes, massage showerheads, hair dryers, Elemis Aromapure "Time to Spa' bath amenities, televisions with DVD players, ample storage, complimentary fresh fruit, and complimentary 24-hour in-room dining. Accommodations on Holland America range from interior staterooms to suites.
Dining on Holland America is an experience to be savored. Guests can choose a traditional set dining time or can opt for As You Wish® open dining. Holland America offers casual dining in the Lido restaurant, elegant dining in the main dining room, and a specialty dining option in the Pinnacle Grill restaurant. Holland American uses only the freshest produce and the highest quality meats and seafood to create delicious and innovative menus pared with an extensive wine list.
Life onboard Holland America is filled with a variety of activities and enrichment programs. Their Culinary Arts Center, presented by Food & Wine Magazine, offers demonstrations and seminars conducted by top chefs. Their Digital Workshop offers free lessons on a variety of topics such as digital photography, PC instructions and social media classes. All Holland America ships also feature a fully equipped fitness center, fitness classes and a luxurious spa where you can pamper and rejuvenate yourself.
Holland America's eleven ships offer over 700 itineraries worldwide ranging from 1 to 112 days and include cruises to Alaska, Asia, Australia & New Zealand, Bermuda, the Caribbean, Canada & New England, Europe, Hawaii, the Panama Canal, South America and even full world cruises.
Call now or book online to receive exclusive rates, special deals and extra amenities on your next Holland America cruise.
Featured Holland America Cruises
Holland America Cruise Ship Profiles, Deck Plans and Public Areas
Holland America Cruise Highlights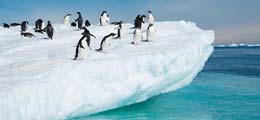 Unique Destinations
Holland America is a favorite of many because of the wide range of cruise destinations and itineraries that it offers. Its eleven ships span the globe and include destinations on all continents. Holland America's world cruises and Grand Voyages bring travelers to many unique ports that even the most experienced traveler will find rewarding.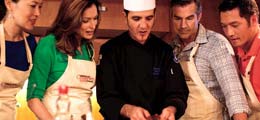 Culinary Arts Center
Holland America's Culinary Arts Center provides a unique interactive culinary experience for those travelers who have an interest in fine food and wine. Guests can participate in hands-on cooking classes taught by master chefs or culinary guests. The Culinary Arts Center offers special wine tastings where guests can sample fine wines and enjoy special food pairing seminars. Market tours are also featured in select ports.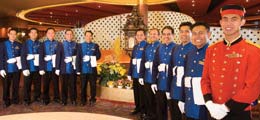 Exceptional Service
Holland America's Signature of Excellence provides guest with an extraordinary level of service from the moment the journey begins. Their friendly and professional staff are there to ensure that your cruise experience in a pleasant and memorable one.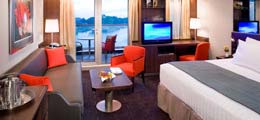 Spacious Accommodations
Holland America's Signature of Excellence transcends into their spacious accommodations, some of the largest staterooms in the premium cruise market. Luxury touches are found in every detail. Stateroom amenities include personal terry bathrobes, Large, extra-fluffy Egyptian cotton towels, luxurious Mariner's Dream™ beds and premium linens, fine chocolates on your pillow at night, Complimentary fresh fruit and many other extra touches that turn your stateroom into a relaxing retreat.
Additional Holland America Cruise Information