Cruise.com Mobile App

Cruise.com Mobile App
#1 Rated Cruise App in the Industry
Cruise.com delivers your cruise to your phone with the Cruise.com mobile app, just rated #1 in the travel industry by Applause. Available for iPhone and Android users, this application is more than just a web browser. Now mobile users will have a wealth of cruise information at their fingertips.
Cruise.com Mobile App Features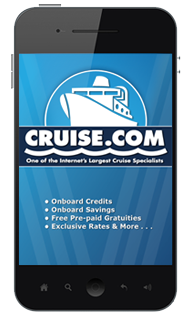 FIND A CRUISE — Find and book a cruise with over 70 cruise lines to choose from on worldwide destinations including the Caribbean, Alaska, Europe, South America, Australia and New Zealand and more.
MY CRUISE — If you booked a cruise with Cruise.com you can find information specific to your cruise on your phone.
Cruise Countdown
Itinerary Details
Itinerary Map
Ship Information
Packing List
Departure Port Information
Cruise Checklist
HOT DEALS — Get the best cruise deals on your phone.
SHIP INFORMATION — Select a ship and get all of the details including the ship profile, stateroom information, dining information, public area information and deck plans.
CONNECT WITH US — Call us, email us, like us on Facebook, follow us on Twitter, read our blog, and visit our full site.
Mobile App Support »