Galapagos Cruise

Galapagos Cruise
About Galapagos Cruises
Taking a Galapagos cruise is taking a step back into history. This archipelago of volcanic islands is located in the Pacific Ocean near the equator and was Charles Darwin's living laboratory of evolution. The Galapagos Islands and the surrounding area are a dedicated marine preserve second in size only to Australia's Great Barrier Reef. The original name "Insulae de los Galopegos" translates into "Islands of the Tortoises", named after the islands' giant tortoises.
Isolation from the world's continents for millions of years has led to a unique eco-system and abundant and rare varieties of wildlife. Some of the species found in the Galapagos include giant tortoises, prehistoric land and marine iguanas, sea lions, whales, manta rays, dolphins, small reef sharks, sea cucumbers and other beautiful and exotic wildlife species.
The Galapagos Islands are a birder's paradise and cruise guests can observe flightless cormorant, a variety of mockingbirds, pink flamingos, hawks, waved albatross, the great frigatebird, blue and red footed-boobys, Galapagos penguins and tanagers (Darwin's finches). Most of the species found on the Galapagos are found no where else on earth.
Approximately 40 Galapagos cruise itineraries are offered ranging from 3 to 16 days. Most of the cruises use smaller, expedition style vessels with experienced naturalists on board providing a unique and personal cruise experience that cannot be found anywhere else. Call now or book online to receive exclusive rates and special offers on your next Galapagos cruise.
Best Galapagos Cruise Deals
All offers are based on select sailings and categories and are subject to availability at time of booking. All rates are per person based on double occupancy.
Galapagos Cruise Highlights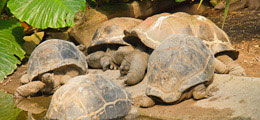 Exotic Wildlife
Isolated for millions of years these enchanted islands teem with exotic varieties of sea life, reptiles, animals and land and marine fauna. Some of the species include giant tortoises, sea lions, whales, sea urchins, sting rays and manta rays, marine iguanas and other species, many of which are endangered.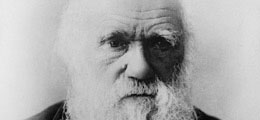 Charles Darwin Research center
The Charles Darwin Research center is a biological research station that was created under the auspices of Unesco. Visitors to the center can learn about the efforts to protect and restore the areas ecosystems including visiting the Giant tortoise corrals, home to Lonesome George, the rarest animal in the world today. Lonesome George is the last of the Pinta Island tortoise. With none of his species left to mate with when he dies the species will become extinct.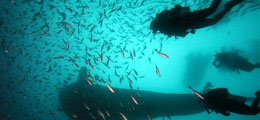 Incredible Diving and Snorkeling
The abundance of marine life in the Galapagos makes snorkeling and Scuba diving an amazing adventure. Over 2,000 species of fish and marine life provide one of the most incredible and rewarding places to snorkel or dive. Their vibrant colors are rich and varied and the underwater kingdom found on a Galapagos cruise is simply incredible.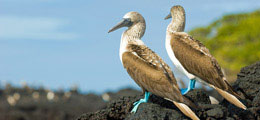 Birder's Paradise
A Galapagos cruise showcases a number of rare and unique species of birds that can only be found in this area. Flightless cormorant, mockingbirds, pink flamingos, hawks, and albatross are just a few of the many species that can be found here.