Great Lakes Cruises
Great Lakes Cruises
About a Great Lakes Cruise
For cruise and travel enthusiasts looking for something familiar yet different and closer to home, Great Lakes River Cruises are a perfect fit. Explore parts of the U.S. and Canada on lovely, well-appointed and smaller ships wherein you can experience wonderful locales and meet like-minded new friends. Great Lakes River cruises are available between the United States and Canada. Itineraries include sailings in the U.S. from Milwaukee, Mackinac Island, Duluth, Detroit and Chicago. Canadian cities included are Montreal, Toronto, Thunder Bay and Point Pelee.
Cruise to popular cities and scenic towns experiencing the best they have to offer in arts, entertainment, food, relaxation and more. River cruises dock right in the heart of your destinations which puts you in the center of the action. Choose from offered excursions, independent exploration of a seamless combination of both. Many river cruises offer a complimentary excursion in each port, FREE Wi-Fi, onboard beverages with meals – such as wine, beer and more.
Highlights on these incredibly scenic cruises may include breathtaking Niagara Falls, the brilliant kaleidoscopic colors of fall foliage, gorgeous National Parks, First Nations culture and heritage, kayaking in UNESCO Biosphere Reserves, museums, vintage train rides, participate in a carriage or bicycle tour on "carless" Mackinac Island, enjoy Toronto's renowned food scene, witness majestic wildlife, stroll along bustling waterfronts, navigate fascinating locks, see JFK's limousine, delve into Ice Age history in the region, explore the Apostle Islands, kayak through sea caves, tour Rock & Roll Hall of Fame and Hop-On Hop-Off tours among many other captivating experiences and opportunities.
Onboard you'll be treated to exceptional service, delicious dining which includes local specialties prepared with fresh and locally sourced ingredients, various enrichment activities provided by area specialists, live music, serene décor, delightful accommodations and spectacular views of North America in all of her splendor. Discover for yourself some of the many gems located in this memorable, closer to home region.
Best Great Lakes Cruise Deals
All offers are based on select sailings and categories and are subject to availability at time of booking. All rates are per person based on double occupancy.
Great Lakes Cruise Highlights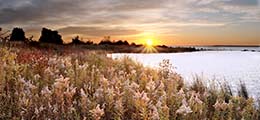 Visit the 5 Great Lakes
The Great Lakes are the largest group of freshwater lakes on Earth and on a Great Lakes cruise you can explore their natural beauty. Created by receding glaciers and interconnected, the five great lakes (Lake Erie, Lake Superior, Lake Huron, Lake Michigan and Lake Ontario) can be visited on a variety of 7 to 14 day cruises with ease and comfort.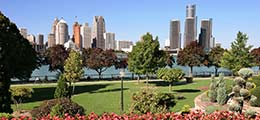 Great Cities & Towns
Some of the highlights of a Great Lakes cruise includes stops in Chicago, Toronto, Detroit, Duluth, Cleveland, and Montreal. Smaller towns such as Mackinac Island, Thunder Bay, Sault Ste.Marie, Georgian Bay can also be explored.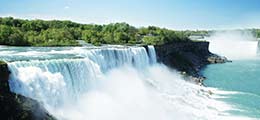 Niagara Falls
Known for its jaw-dropping scenic beauty, thundering roars and shimmering rainbows, Niagara Falls has captivated millions of visitors. The raw power of six million cubic feet of water rushing over the Falls every minute of the day, is a genuine wonder of the world that can be experienced on a great Lakes cruise.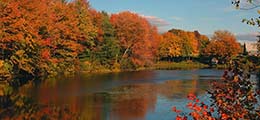 Fall Foliage
The fall foliage is one of the highlights of a Great Lakes cruise when colors of autumn explode with vibrant colors. The best time to enjoy the fall colors in the Upper Peninsula is mid-September to mid-October, with the peaks in October.