Mexico Cruise

Mexico Cruise
About Mexico Cruises
Cruise to Mexico and take in all that this wonderful destination has to offer. A Mexico cruise is a great option for the first time cruiser. Visit the wonderful towns of Puerto Vallarta and Cabo San Lucas. Explore Mexico's beautiful beaches and colorful villages. Excursions include incredible snorkeling, diving and deep sea fishing. Experience the culture and history of Mexico and enjoy the wonderful shopping opportunities that are offered.
Beyond the coastal scenery and stunning blue waters you'll find a culinary experience like none other. Many people choose Mexico as a destination solely for the cultural and dining options. From Cozumel to Catalina and Ensenada to Costa Maya, you'll a variety of cuisine even true foodies can appreciate. Embrace the spirit only found south of the border and you'll have a Mexico cruise you won't soon forget.
The cities and villages visited on a Mexico cruise feature historical colonial architecture and a traditional Mexican atmosphere. Many of the shops feature ceramics, leather goods, jewelry and Mexican arts and crafts. Mexico cruises range in length from 2 to 21 days on a variety of cruise lines and itineraries.
Call now or book online to receive the best cruise deals, discounts, onboard credits, upgrades and more on your next Mexico Cruise.
Best Mexico Cruise Deals
All offers are based on select sailings and categories and are subject to availability at time of booking. All rates are per person based on double occupancy.
Mexico Cruise Highlights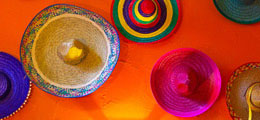 Shopping
Shopping is one of the highlights of a Mexico cruise. Here you will find authentic Mexican items that include local crafts, arts, ceramics, jewelry and other souvenirs that will remind you of your Mexican cruise long after you return home.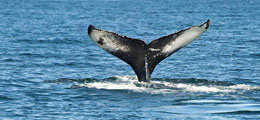 Whale Watching
Each year thousands of Whales migrate from South America to Alaska and one of the highlights of a Mexico cruise is to experience these majestic creatures up close on a whale watching excursion. Whales can be seen in Mexico from December to April and include grey whales, humpbacks, and blue whales. The experience of seeing these whales is unforgettable.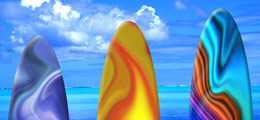 Surfing
A Mexico cruise offers some of the best locations for surfing in the world and some of the greatest coastal scenery as well. Surfing lessons are also offered on for those who have never surfed before.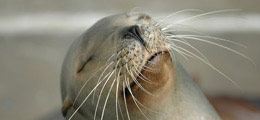 Sea Lion Encounters and Dolphin Adventures
Swimming with the dolphins and sea lions is a unique experience that should not be missed on a Mexico cruise. Learn about these unique creatures' behaviors and habitats and even have the opportunity to pet, swim and interact with them.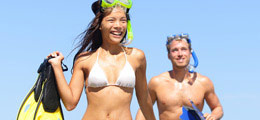 Snorkeling & Scuba
The crystal clear waters of the Mexican coast are ideal for snorkeling and diving enthusiasts. Snorkelers and divers can explore the colorful reefs and the plentiful sea life including octopus, lobsters and sea urchins.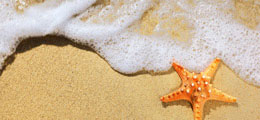 Beaches
Taking a cruise to Mexico lets you unwind and get away from it all. Mexico's beaches are beautiful and unspoiled and are a perfect remedy to leave you feeling relaxed and rejuvenated.