Columbia & Snake River Cruises

Columbia & Snake River Cruises
About Columbia & Snake River Cruises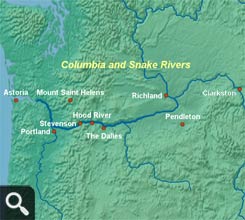 A Columbia & Snake river cruise takes you in comfort in the footsteps of the famous explorers Lewis & Clark and the pioneers who traveled on the Oregon Trail. Take in the beauty of the Columbia River Gorge and taste some of the best local wines. Visit the Mount St. Helen's volcano and Multnomah Falls, one of North America's tallest waterfalls.
Let a Columbia & Snake River Cruise show you some of the best that America has to offer.
Best Columbia & Snake River Cruise Deals
All offers are based on select sailings and categories and are subject to availability at time of booking. All rates are per person based on double occupancy.
Due to the small ship size river cruises book up early and quickly. It is highly recommended to book your river cruise well in advance. All prices and availability are subject to change at any time. Please call to verify the availability and rates.