Douro River Cruises

Douro River Cruise
About Douro River Cruises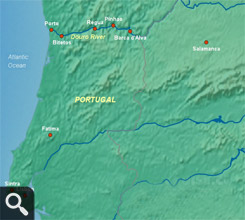 A Douro River Cruise is the perfect way to see Portugal's spectacular beauty and to experience its traditions and culture. Your cruise will take you to such exciting places as Belém, where you can sample the traditional "pasties de Belem" from an ancient monk's recipe. Explore the beautiful Jerónimos Monastery, a UNESCO World Heritage Site, along with the Tower of Belém. Cruising on the "River of Gold" with take you past dramatic sheer rock formations, picturesque vineyards and offer the fascinating experience of passing through two of the river's locks at the Valeira and Pocinho Dams.
One of the highlights of this interesting cruise is sampling and learning about the country's famous port wine. Meander through lush terraced vineyards, sleepy fishing villages and spectacular gorges. Stop in delightful ports, virtually unchanged for centuries. Visit charming villages, local markets and imposing historic castles.
Step back into time at Salamanca, Spain, that is also a UNESCO World Heritage Site, in the center of the Castilla y León region. Tour the small town of Pinhão, known as the "wine lovers Mecca," and the beautiful region of Trás-os-Monte with the stunning palace and gardens of Mateus. Explore the northern capital of Portugal, Porto and the Roman village of Bitetos with its amazing 11-century Alpendurada Monastery.
Charming riverside Porto boasts an historic center, stunning baroque cathedrals, lovely bridges and cobbled streets with romantic buildings dating back to the 16th century and visit the old fishing village of Foz and Coimbra, home to one of Europe's largest universities. Stop in Régua and visit the small town of Lamego with the famous baroque Sanctuary of Our Lady of Remedies. Dating back to the 14th-century, pilgrims still come here, where the shrine is adorned in stunning Moorish-style tile work. From the little village of Favaios to the traditional bakeries of the Douro Valley and the local port, a romantic Douro River Cruise will be an unforgettable experience.
Best Douro River Cruise Deals


EXCLUSIVE RATES: Book Now and Save
Included Amenities: FREE Gratuities, Shore Excursions, Wi-Fi, PLUS Drinks at Lunch & Dinner
All offers are based on select sailings and categories and are subject to availability at time of booking. All rates are per person based on double occupancy.
Due to the small ship size river cruises book up early and quickly. It is highly recommended to book your river cruise well in advance. All prices and availability are subject to change at any time. Please call to verify the availability and rates.