Grand River Cruises

Grand River Cruises
About Grand River Cruises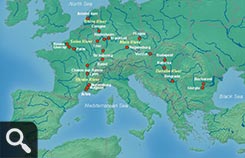 A Grand River Cruise is the ultimate way to take in all that Europe has to offer. Imagine embarking on a journey which allows you to cross the continent in comfort and style on a variety of different rivers.
Sail on the legendary Rhine River as it takes through the Dutch waterways, past Germany's fairytale castles onto the Main and Danube Rivers. Transit through the Main-Danube Canal — an engineering marvel that enabled the connection between the Atlantic Ocean and the Black Sea. Or combine the Rhine with the Danube and the Moselle River to experience a variety of countries and destinations.
Experience picturesque villages and vineyards you will see in Austria's lush Wachau Valley. Visit such countries on a Grand European River Cruise as Austria, Holland, Germany, Hungary and Slovakia when you experience the Rhine River and the Danube River. Savor a Sachertorte in a Viennese café and enjoy panoramic view of imperial Budapest along the way. Discover the legend of the Lorelei, the ancient art of glassblowing and the beautiful music of Mozart.
Indulge in an extraordinary Gallic adventure on "Grand France" cruises that may combine such fabulous itineraries as Paris and Normandy with Burgundy and Provence, for the ultimate French experience, including the world-famous wine and cuisine this region is famous for. Combine the legendary Rhine and the vineyard-rich Moselle Rivers for a unique experience. Travel through an amazing five countries on some cruises and glide past some of Europe's most spectacular scenery, where historic sites and fairytale castles appear at every turn. Visit such postcard-perfect towns as Koblenz, Cochem, Colmar, Bernkaste, Trier, Rudesheim and spectacular Strasbourg.
Best Grand River Cruise Deals


Exclusive Rates: Book Now and Save
Complimentary Transfers, Gratuities, Unlimited Drinks, Wi-Fi & Excursions + Personal Butler
All offers are based on select sailings and categories and are subject to availability at time of booking. All rates are per person based on double occupancy.
Due to the small ship size river cruises book up early and quickly. It is highly recommended to book your river cruise well in advance. All prices and availability are subject to change at any time. Please call to verify the availability and rates.