Hudson River Cruises

Hudson River Cruises
About Hudson River Cruises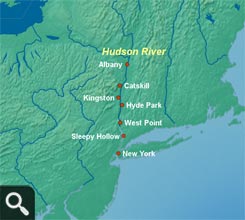 A Hudson River cruise is steeped in history and the stunning natural beauty. Sailing round-trip from New York City, a Hudson River cruise sails to many historic sites including West Point, the Vanderbilt Mansion, Hyde Park and Sleepy Hollow. The Catskill Mountains and Berkshires create a vibrant background bursting with a rainbow of colors as the fall foliage comes alive. Sail past quiet villages, grand estates and view unparalleled vistas that have inspired painters for centuries.
Let a Hudson River Cruise show you some of the best that America has to offer.
Best Hudson River Cruise Deals
All offers are based on select sailings and categories and are subject to availability at time of booking. All rates are per person based on double occupancy.
Due to the small ship size river cruises book up early and quickly. It is highly recommended to book your river cruise well in advance. All prices and availability are subject to change at any time. Please call to verify the availability and rates.