Mekong River Cruises

Mekong River Cruises
About Mekong River Cruises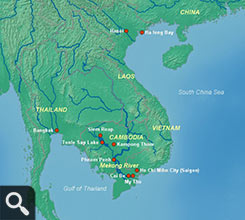 Mekong River Cruises offer unforgettable adventures. Explore the beautiful scenery of unique lands along this remarkable waterway as you glide to such amazing places as Burma, Cambodia, China, Laos, Thailand and Vietnam. Discover different countries, cultures and diverse ways of life for the vacation experience of a lifetime on the "Magnificent Mekong."
From Vietnam's bustling cities to Cambodia's peacefulness, experience this unique destination of contrasts, plus an incredible history. Marvel at ancient Khmer monuments such as Angkor Wat and the sophisticated French inspired capital, Phnom Penh. See the exquisite Royal Palace with the famous Silver Pagoda, with an incredible floor covered in gleaming silver and the breathtaking golden Buddha, encrusted with diamonds, the largest weighing 25 carats.
Visit Vietnam's colorful floating markets of the Mekong delta and Hanoi and Ho Chi Minh City, once known as Saigon. Tour the Temple of Literature and the notorious "Hanoi Hilton." Marvel at old and new Ho Chi Minh City, boasting natural beauty and rich culture and ride through the rich farmlands of the Red River Delta.
Journey to such exciting places as Ha Long Bay and Siem Reap, the gateway to Angkor Wat, a UNESCO World Heritage Site due to its important archeological findings and the Bayon Temple. Marvel at the Terrace of the Elephants, plus the enigmatic Bayon Temple. Take a fascinating excursion to Ha Long Bay, tour the world-famous temples of Angkor Archeological Park and visit rural villages with thatched huts, royal residences and take an amazing panga board ride for amazing memories sure to last a lifetime.
Best Mekong River Cruise Deals
All offers are based on select sailings and categories and are subject to availability at time of booking. All rates are per person based on double occupancy.
Due to the small ship size river cruises book up early and quickly. It is highly recommended to book your river cruise well in advance. All prices and availability are subject to change at any time. Please call to verify the availability and rates.