Mississippi River Cruises

Mississippi River Cruises
About Mississippi River Cruises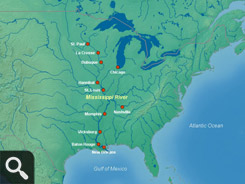 One of the most important U.S. waterways, and one of the most colorful, is the mighty Mississippi River. On a Mississippi River cruise American history comes to life. The broad vistas take you through America's heartland, past beautifully restored antebellum plantations, and into incredible cities and towns. Explore civil war battlegrounds and the historical homes of Mark Twain and Abraham Lincoln.
Music is an integral part of the Mississippi River culture. There is no better place to experience the blues than in Memphis where you can visit the historical Graceland. Nashville brings country music alive at the Grand Ole Opry. Be surrounded by incredible Jazz surround in New Orleans. Let a Mississippi River cruise show you some of the best that America has to offer.
Best Mississippi River Cruise Deals
All offers are based on select sailings and categories and are subject to availability at time of booking. All rates are per person based on double occupancy.
Due to the small ship size river cruises book up early and quickly. It is highly recommended to book your river cruise well in advance. All prices and availability are subject to change at any time. Please call to verify the availability and rates.