Myanmar Cruise

Myanmar Cruise
About Myanmar Cruises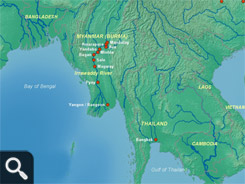 A Myanmar Cruise will take you in comfort through the heart of what was once known as Burma. Your trip begins in the colorful city of Bangkok where you can explore floating markets, spectacular gold topped temples and stunning grand palaces. After flying to Myanmar you will board the ship and sail on Southeast Asia's Irrawaddy River as it winds past traditional villages, ancient palaces and golden pagodas.
This amazing journey, the "Road to Mandalay", will take you through the incredible Irrawaddy Valley. Visit monasteries on the river's edge, ancient shrines, forts and local markets, where you can enjoy the warmth of the people. Little has changed here for centuries and it is a unique part of the world to visit and learn about up-close, especially by the convenience of a river cruise.
Myanmar is a land of legend and all along the Irrawaddy River you will find thousands of years of Buddhist art, archaeology and architecture. Voyage to breathtaking cultural and natural wonders as you visit places such as Amarrapura, Yandabo, and Baggan. Baggan is the most sacred spot in Burma. Dating back to the 9th century, Baggan boasts more than 2,000 monuments and pagodas in a 16 square mile area.
Explore this picturesque and unique region of the world at a slow pace on your river cruise as fascinating sites unfold before you. Experience the region that is like no where else on earth on a Myanmar Cruise.