Nile River Cruise

Nile River Cruise
About Nile River Cruises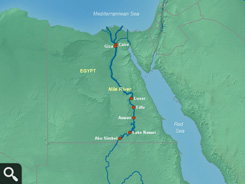 A Nile Cruise presents incredible wonders and insights into the land of the pharaohs, pyramids and temples. Visit such ancient places as the great city of Cairo, the Valley of the Kings and Valley of the Queens, all on or near the banks of this historic river. Cruise in comfort to some of the most awe inspiring places on earth, including the pyramids, the Great Sphinx and ancient temples.
Sail across Lake Nasser to the statues of Ramesses II and Nefertari at Abu Simbel. Marvel at such highlights as the Giza Plateau near Cairo, home to the only Wonder of the Ancient World still standing; the Great Pyramids of Cheops, Kephren and Mykerinus, once the tombs of pharaohs. Whether a northbound or southbound route, ships typically visit such places as Edfu, Dendera, Kom-Ombo, Luxor and Aswan, with a side trip to Abu-Simbel.
Ancient sights such as the Temples of Luxor, Edfu and Kom Ombo, plus the necropolis at Sakkara also afford unforgettable experiences, that may include an incredible light and sound show offered at Karnak Temple. Tour Cairo, home of such landmarks as the Citadel of Saladin and the Mosque of Muhammad Ali and the Museum of Egyptian Antiquities, housing the legendary riches of King Tutankhamun. Luxor's Valley of the Kings and temple of Hatshepsut are amazing and you will be completely in awe at the Luxor Museum, featuring the royal mummies.
Tour the Aswan High Dam and the Temple of Kalabsha, plus take a scenic ride on a fabulous felucca – a traditional Egyptian wooden sailboat on the Nile. Visit the small island of Philae, a retreat for priests and walk the Temple of Isis. Many take advantage of pre- and post-packages in various destinations, including Cairo, Israel and Jordan.
Best Nile River Cruise Deals
All offers are based on select sailings and categories and are subject to availability at time of booking. All rates are per person based on double occupancy.
Due to the small ship size river cruises book up early and quickly. It is highly recommended to book your river cruise well in advance. All prices and availability are subject to change at any time. Please call to verify the availability and rates.