Po River Cruises

Po River Cruises
About Po River Cruises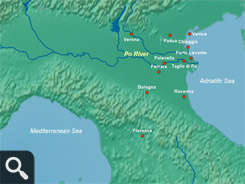 Take an unforgettable journey into the heart of Italy on an incredible Po River Cruise. Indulge in delicious cuisine, fabulous wine from the local sun-drenched vineyards and incredible sights. Explore Venice with its hidden alleyways and spectacular St. Mark's Basilica, the Doge's Palace and the Rialto Bridge. Visit the city's many markets, cafes and even take a romantic gondola ride that Venice is so well known for.
Glide along Venice's palazzo-lined canals and into the Tuscan countryside dotted with olive groves and vineyards. The areas of Veneto, Tuscany and Emilia-Romagna were the birthplace of the European Renaissance and boast some of the world's most exquisite art and architecture. Uncover northern Italy's hidden treasures. Stroll through the medieval walled city of Padua, one of Italy's oldest towns. Padua is home to many scholars including Galileo and Dante.
Sample some of Italy's best cuisine in Bologna including the freshest Parmesan cheese, Parma ham and homemade tortellini. You can even join a pasta-making workshop and make your own delizioso pasta. Visit the ancient city of Verona, home to Shakespeare's star-crossed lovers, Romeo and Juliet.
A number of Po River cruise itineraries combine the romance of northern Italy with the historical city of Florence and the excitement of Rome. Florence is home to Michelangelo's David, the Cathedral of Sana Maria del Fiore and the legendary Ponte Vecchio. Shopping includes fabulous jewelry and high-end luxury brands. Take a walking tour in the heart of Rome, "The Eternal City," and see the Pantheon, the Spanish Steps, Trevi Fountain and St. Peter's Basilica. Exclusive Wine Themed Cruises on the Po River highlight regional culinary classes and wine pairing dinners with legendary Italian cuisine which add to the Po River Cruise experience — one you will never forget!
Best Po River Cruise Deals
All offers are based on select sailings and categories and are subject to availability at time of booking. All rates are per person based on double occupancy.
Due to the small ship size river cruises book up early and quickly. It is highly recommended to book your river cruise well in advance. All prices and availability are subject to change at any time. Please call to verify the availability and rates.