Rhine River Cruises

Rhine River Cruises
About Rhine River Cruises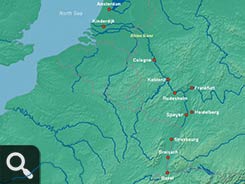 Rhine River Cruises offer a romantic adventure on one of Europe's most storied waterways, with fairytale castle-dotted hillsides, picturesque Old World villages, terraced vineyards and centuries-old fortresses. Experience the legendary Black Forest, the spectacular Rhine River Gorge and the fabled Lorelei Rock.
Sip wine from the vineyards you are passing from the comfort of your balcony and take-in the wonders of this region as you glide to such exciting places as Amsterdam, Cologne, Frankfurt, Heidelberg, Prague, Strasbourg, Linz, Antwerp, Gouda, Rotterdam, Ghent, Bruges and Basel. Straight out of a picture book, the Middle Rhine Region features magnificent cliffs, steep vineyards and a castle perched on almost every hilltop, while delightful villages line the riverbanks.
View the majestic Cologne Cathedral and try the city's famous beer called Kölsch. Shop for handmade cuckoo clocks in the Black Forest region and in Mainz, visit the Gutenberg Museum, home to the first printed bible. Tour the riveting Airborne Museum Hartenstein, dedicated to the famous Battle of Arnhem.
History buffs will want to explore Roman ruins and medieval palaces, garden enthusiasts will love a Tulip Cruise, highlighted by Keukenhof Gardens and foodies will enjoy culinary treasures. Savor famous Riesling wines in Rüdesheim and stroll along its picturesque Drosselgasse walkway and visit the famous cathedral in Cologne, and sample the local beer, Kölsch.
Best Rhine River Cruise Deals
All offers are based on select sailings and categories and are subject to availability at time of booking. All rates are per person based on double occupancy.
Due to the small ship size river cruises book up early and quickly. It is highly recommended to book your river cruise well in advance. All prices and availability are subject to change at any time. Please call to verify the availability and rates.