Seine River Cruises

Seine River Cruises
About Seine River Cruises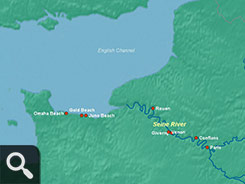 Let a Seine River Cruise show you all of the grandeur the is France, from lovely sleepy village towns to magnificent cities steeping with incredible art and history. Beauty awaits you on this fabled river that rises in the northeastern part of the country, flowing through Paris and westward to the English Channel. Boasting a special magic, you will know why this unique region has inspired writers, musicians and amazing artists for centuries.
Glide in the utmost of comfort to some of the world's most romantic destinations, including spectacular Paris, the "City of Light," and the picturesque Burgundy and Normandy. Explore the wonders of history, art and architecture, amazing culture, savor world-famous cuisine and sample incredible local wines from the region's legendary vineyards.
Discover charming waterside villages, such as Rouen, lined with lovely half-timbered houses and admire its Astronomical Clock and the spectacular cathedral. Marvel at the enchanting scenery of storybook vineyards, stunning landscapes, fragrant apple orchards and medieval towns, historic abbeys and Norman castles that will leave you awestruck. Visit famous museums, such as the Louvre and the exquisite gardens that are a colorful tapestry of flowers at Claude Monet's Giverny. See the glorious Eiffel Tower, Arc de Triomphe and Notre Dame cathedral and shop on the Champs Elysees. Relax at a delightful café at the picturesque seaside village in Honfleur. Explore the beauty of Versailles and pay homage to the heroes of World War II at the historic beaches of Normandy and see the spectacular Gaillard Château in Les Andelys and sample the fabulous apple brandy.
Taking a delightful river cruise through magical France is ideal for those who love art, especially the French Impressionists, culture, history, gourmands and wine aficionados. Foodies will want to take a Culinary Themed River Cruise or a Wine Themed Seine River Cruise to experience the fabulous cuisine and sample local wines and world-famous cheeses. Experience the true joie de vivre on a Seine River Cruise.
Best Seine River Cruise Deals
All offers are based on select sailings and categories and are subject to availability at time of booking. All rates are per person based on double occupancy.
Due to the small ship size river cruises book up early and quickly. It is highly recommended to book your river cruise well in advance. All prices and availability are subject to change at any time. Please call to verify the availability and rates.