Yangtze River Cruise

Yangtze River Cruise
About Yangtze River Cruises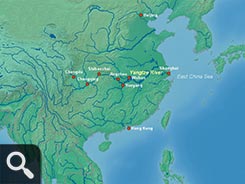 A Yangtze River Cruise welcomes you with unforgettable experiences in some of the most fascinating regions in the world. Beauty and wonder await you on Asia's longest river — which at more than 3,915 miles, is the third longest in the world, and is known as China's "Golden Waterway."
See magnificent wildlife, including China's famous pandas, spectacular temples, centuries-old palaces, historic regions and magnificent scenery. Cruise this tranquil river that reveals some of China's most inspiring landscapes. Yangtze River Cruises offer a variety of itineraries encompassing a number of incredible regions and cities.
The river itself is legendary and the Three Gorges region is an engineering marvel. This awe-inspiring area boasts one of nature's most magnificent sculptures, carved along the Yangtze River. Transverse the locks of the Three Gorges Dam — a total of five in incredible dimensions — for the experience of a lifetime. Afterward, sail through Xiling Gorge, the last of the three, for an incredible experience you will remember for a lifetime.
You may visit historic Chongqing, China's capital during World War II and also home of the Allied Command in that region. Today, you can visit the zoo and see the world famous Giant Pandas, as well as rare Golden Monkeys and South China Tigers. Some Yangtze River cruises may also include Beijing as part of a pre-tour allowing you to see and experience additional great wonders, such as the legendary Forbidden City and its Imperial Palace, once home to the great emperors. Nearby, is the famous Tiananmen Square and the amazing Summer Palace, comprised of temples, pavilions and galleries set among the magnificent landscaped grounds of Kunming Lake. Stretching 4,000 miles is the Great Wall of China, boasting stunning vistas. Another highlight of this river cruise is Xi'an, where you can marvel at the legendary terracotta warriors.
All this and more, make a Yangtze River cruise a fascinating choice as you get an up-close and in-depth experience through China. Discover the region's iconic sites and hidden treasures on this special river for a truly unforgettable magical vacation experience.