Zambezi River Cruise

Zambezi River Cruise
About Zambezi River Cruises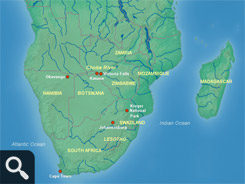 Alluring Africa is like no other place in the world and a Zambezi River Cruise offers a spectacular way to see this most amazing region, with wildlife, sweeping plains, primordial craters and towering mountain peaks. Natural beauty and incomparable diversity is abundant throughout.
Cruise along the spectacular Chobe River and see the wonders of Chobe National Park and the placid Zambezi River, where magnificent hippos, crocodiles, elephants and different bird species live in their natural habitat. You haven't seen a sunset until you have seen it from your river cruise ship in glorious Africa.
Take a morning drive to Amboseli National Park in the foothills of majestic Mount Kilimanjaro, where you can spend, depending on the cruise, some nights at the famous Amboseli Serena Safari Lodge, for the most unforgettable experience. Designed for comfort, your river cruise ship will take you to incredible sights in the utmost of comfort. Imagine viewing some of the most beautiful scenery in the world from your balcony or luxurious air-conditioned suite and top deck. Watch the amazing night sky with an onboard telescope for the brightest stars you have ever seen. Enjoy local cuisine, vineyard tours and wine-tastings, stays at incredible game lodges.
Encounter animals on unforgettable excursions by boat or open-air vehicle. Thrilling private safari cruises offer a unique experience and so do exploring the waterways by a mokoro, a type of canoe. Visit the small village of Kasenu to learn about its people and their special lifestyle. Many of these Africa cruises begin with a stay in Cape Town or Kruger National Park, an eco-tourism destination and may include such incredible places as Johannesburg and Kasane, Botswana, and even the Serengeti in Kenya. Behold one of the great natural wonders of the world, Victoria Falls, which comprise the largest curtain of water on earth before dropping dramatically into the Zambezi Gorge. Experience a Zambezi River Cruise for the most unforgettable vacation experience of a lifetime.
Best Zambezi River Cruise Deals


Exclusive Rates
All Inclusive Cruising: Free Wi-fi, Excursions & Beverages


Exclusive Rates
All Inclusive Cruising: Free Wi-fi, Excursions & Beverages
All offers are based on select sailings and categories and are subject to availability at time of booking. All rates are per person based on double occupancy.
Due to the small ship size river cruises book up early and quickly. It is highly recommended to book your river cruise well in advance. All prices and availability are subject to change at any time. Please call to verify the availability and rates.