AmaWaterways
Dining Onboard AmaWaterways Cruises
Dining is an integral part of any river cruise and AmaWaterways features fresh, locally sourced ingredients and regional specials featured on each of the menus. Regional wines and friendly attentive service combined with spectacular views provide an incredible dining experience.
AmaWaterways is also proud to be the only river cruise line that has been invited to join La Chaine de Rotisseurs, an international association of gastronomy that was founded in Paris in 1950. AmaWaterway's Executive Chef, Primus Prechtold has also been awarded three gold medals from the European Championship of Culinary Art.
Intimate dining is featured in the main dining room on each AmaWaterways' ship complete with complimentary wine, beer and soft-drinks at lunch and dinner. In addition, on some of AmaWaterways' newest ships guests can savor a tasting menu in the intimate Chef's Table Restaurant.
Breakfast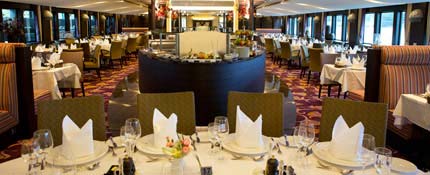 An Early Riser Breakfast is served in the main lounge followed by a full buffet breakfast at 7:00AM in the main dining room. The breakfast buffet features a selection of freshly baked breads, pastries and rolls, meats, cheeses, fruits, made to order eggs and other local specialty dishes.
Lunch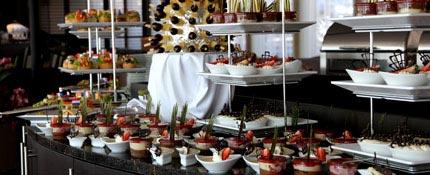 Lunch combines the flexibility of a full buffet combined with specialties that can be ordered from the menu. The buffet includes a variety of soups, salads, pastas, fresh baked goods, carving stations and desserts while ordering from the menu offers a selection of appetizers and main entrees, many which focus on regional cuisine.
Dinner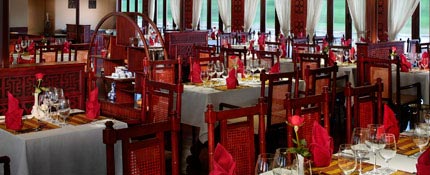 Dinner is a multi-course dining experience featuring a variety of appetizers, soups & salads, entrees and incredible desserts. The menu consists of continental cuisine, vegetarian options and a variety of regional specialties.
Chef's Table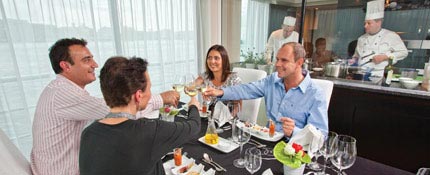 The intimate Chef's Table Restaurant, available by reservation some of AmaWaterway's newest ships, is a premium dining experience offering an innovative and decadent menu paired with exceptional wines with no surcharge.
*Additional fee applies.
All menus and dining times are subject to change without notice. Some venues are only available on select ships.