Crystal Yacht Cruises

Dining Onboard Crystal Yacht Cruises
Everything you love about Crystal Cruises is now available on its exquisite, sleek and graceful yachts. That pampered yet unobtrusive lifestyle is present from the moment you step aboard. While the onboard experience may be intimate and relaxed, exuding a country club ambiance, the culinary presentations are Michelin Star level. The exceptional cuisine that Crystal Cruises is renowned for is ever present onboard her luxurious yachts. From her experienced and innovative chefs to the dedicated, knowledgeable and caring wait staff as well as the stylish and sophisticated décor, your culinary journey will be just as memorable as the cruise itself.
The Grill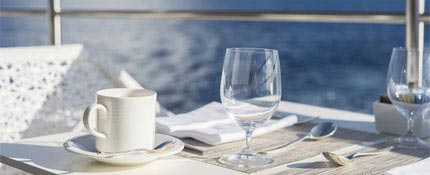 The Grill features your preferred burgers, wraps and whenever possible "global street food" presented tapas-style representing the destinations you're visiting. This al fresco dining area also provides spectacular views of your destinations.
The Terrace and Patio Café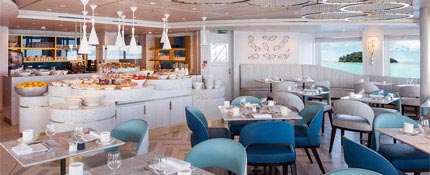 Enjoy breakfast and lunch indoors or al fresco at the Terrace and Patio Café. If you're in search of epicurean delights freshly prepared and regionally inspired along with familiar favorites this is your stop. From small plates, artistic salads, cheeses, pastries and gourmet charcuterie your desire for phenomenal views along with gourmet fare will be gratified.
The Pantry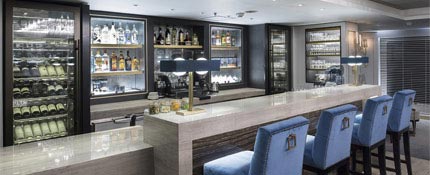 The Pantry is a 24 hour self-service bistro and wine bar. Everything from aromatic coffees, delightful vintages, freshly baked pastries and snacks are available to please your inner connoisseur.
The Yacht Club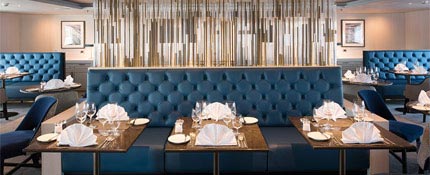 Breakfast, lunch and dinner are served in The Yacht Club Restaurant. Innovative yet classic specialties as well as bespoke tasting menus are all prepared with the finest and freshest local products. The renowned Crystal chefs delight in making each meal an occasion for celebration with memories lasting long beyond the voyage.
All menus and dining times are subject to change without notice. Some venues are only available on select ships.