SeaDream Yacht Club
Dining Onboard SeaDream Cruises
Dining onboard one of the magnificent yachts in the SeaDream fleet is a once in a lifetime experience. The quality of the food on your ship is something you won't soon forget leaving many guests frequently talking about and looking forward to the next meal. Most dining onboard is done in the two main eating areas, Topside and the Dining Salon. Breakfast and lunch is served at Topside, al fresco, with an excellent variety from American favorites to Asian fare, pasta and more.
The Dining Salon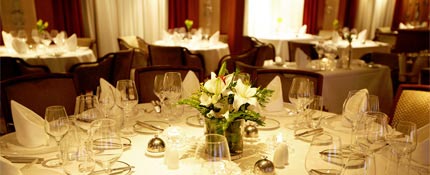 The Dining Salon is an elegant restaurant where you'll enjoy most of your dinners. Your meal will include your favorite protein as the star of your multi-course serving with experienced chefs taking pride in each and every offering. Wait staff is both friendly and knowledgeable while dedicating themselves to creating culinary memories for you travel crew. Wines can be paired with all meals to round out the elegant experience in a truly unbeatable atmosphere.
Room Service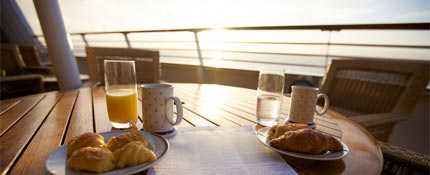 SeaDream offers complimentary Room Service. An in-room dining menu available 24/7 features sandwiches, light desserts, salads, hamburgers and more. An open bar with select beverages is available throughout the day for your favorite libations. Premium alcohol is also available from a separate menu with attractive prices on your favorite brands.
All menus and dining times are subject to change without notice. Some venues are only available on select ships.