Cruise from San Francisco

Cruise from San Francisco
Cruises from San Francisco, California
A cruise from San Francisco is a great option to get away on a cruise vacation. Cruises from San Francisco range from 2 to 82 days and include Alaska cruises, Hawaii cruises, Mexico cruises, Panama Canal cruises, cruises to Australia and New Zealand and other world and exotic itineraries. Those lucky enough to live within driving distance can also get some great last minute cruise deals when they cruise from San Francisco.
Featured Cruises from San Francisco
San Francisco Highlights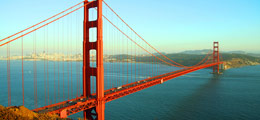 Golden Gate Bridge
The Golden Gate Bridge is an integral part on the San Francisco skyline and one of the must see sights when travelers cruise from San Francisco. Those adventurous enough may want to walk across the 1.7 mile span.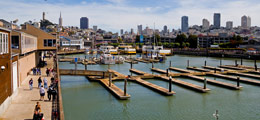 Fisherman's Wharf
A visit to Fisherman's Wharf is a highlight for anyone taking a cruise from San Francisco. Savor the fresh seafood, enjoy the shops and entertainment and delight at the lively sea lions playing on the marina's western docks.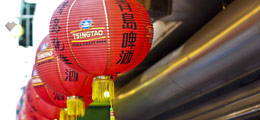 Chinatown
When taking a cruise from San Francisco be sure to visit Chinatown. It is the largest Chinatown outside of Asia and is filled with many shops, restaurants, temples and pagoda.