Celestyal Cruises

Celestyal Cruises
About Celestyal Cruises
Celestyal Cruises, the only home-porting cruise operator in Greece, offers 3, 4, and 7-day all-inclusive award-winning cruises committed to premium experiences at great value! As recognized by world-renowned Cruise Critic, guests can sail through emerald waters to explore multiple breathtaking destinations with calls at the Greek Islands, Egypt, Israel, Turkey, and Cyprus, plus overnight stays in select marque gems.
Celestyal Cruises operates four cozy mid-sized vessels that provide genuine and highly personalized services, with a focus on true cultural immersion. Such authentic and memorable experiences are achieved by offering the Celestyal Inclusive Experience included within the fare of each cruise: all onboard meals made with local ingredients, unrestricted onboard drinks package, onboard entertainment, selected onshore excursions, port charges, gratuities, and a crew focused on guests' every need.
Celestyal Cruises strives to be different and it shows by becoming Cruise Critics 2018 recipient of no less than four Choice & Editors' Pick Awards: Best for Service, Best for Value, Best for Shore Excursions, and Best for Entertainment. "Sea More" with Celestyal Cruises, a cruise line with a history of excellence!
Featured Celestyal Cruises
Celestyal Cruise Ship Profiles, Deck Plans and Public Areas
Celestyal Cruise Highlights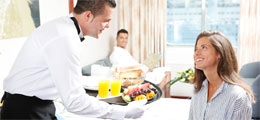 Celestyal Inclusive Experience
Relax on your cruise as you enjoy an inclusive experience. A cruise vacation with Celestyal Cruises offers outstanding value. So much is included in your fare, including all meals and onboard entertainment, unlimited drinks on board, traditional local dishes and international beverages, as well as a selection of local wines and specialties and many shore excursions.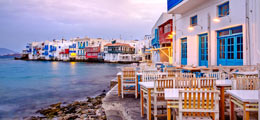 Shore Excursions
Depending on the sailing and itinerary, guests cruising in the Aegean region may have one to three select excursions included, making everything easy for you.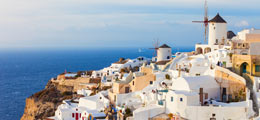 Unique Itineraries
Celestyal Cruises offers cruises to the Greek islands and is one of the only cruise lines to offer round-trip itineraries from Athens. The itineraries also feature overnights in Mykonos and Santorini to provide guests with more time to explore those ports.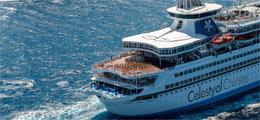 Destination Immersion
Celestyal Cruises lets you immerse yourself in each exciting destination you visit. Authentic experiences will provide you with a special insight into every place you sail via fascinating shore excursions, authentic cuisine and local onboard entertainment in select ports.