Cunard

Cunard Cruises
About Cunard Line
Since 1840 Cunard has been a leader in luxury cruises bringing cruise aficionados the level of personal service, luxury accommodations and a dining experience that is unmatched. The timeless traditions of the grand ocean voyage are very much alive, aboard her majestic liners. All of Cunard's ships feature opulent public areas, extravagant dining rooms and luxurious staterooms offering a journey that may be even more magnificent than the destination. In the evening enjoy dancing, theater shows or relax in the different bars and lounges.
The luxurious Cunard Grill accommodations reflect the dedicated attention and cultured elegance that is the essence of Cunard and feature amenities such as priority embarkation and luggage delivery, personal butler service and exclusive dining in the Princess Grill. Exciting restaurants like Todd English and Cunard's renowned Grills create the most premier dining experience at sea.
Cunard's Enrichment programs introduces guests to featured speakers which include explorers, academics, former ambassadors and politicians, scientists, historians, biographers, award winning novelists and acclaimed actors and film makers. Cunard has special relationships with the Royal Academy of Dramatic Arts, the Royal Astronomical Society, and the Julliard School to add compelling insights to the Cunard cruise experience.
Cunard's ships, Queen Mary 2, Queen Victoria and Queen Elizabeth, define the rich heritage of sophisticated ocean travel. Their itineraries sail guests on over 175 itineraries as they span the globe in unparalleled style delivering Cunard's famous White Star Service.
Call now or book online to receive exclusive rates, special deals and extra amenities on your next Cunard cruise.
Cunard Cruise Ship Profiles, Deck Plans and Public Areas
Cunard Highlights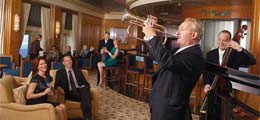 Enrichment Programs
Discovery is the cornerstone of every Cunard Cruise and many rewarding experiences happen right onboard. All Cunard cruises feature a broad range of enrichment programs designed to broaden guests horizons and gain new insights. Some of the programs include Cunard Insights, Royal Academy of Dramatic Arts, Royal Astronomical Society, Julliard School Jazz Series and many more.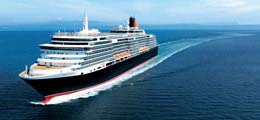 World Cruises
Cunard itineraries embrace those who are adventurous at heart and take them to destinations spanning the globe. The very first world cruise on a passenger liner was aboard Cunard's Laconia in 1923 and the tradition has continued. Cunard's world cruises circumnavigate the globe taking travelers on a unique adventure each day. Cunard's world cruises often feature famous celebrities and grand welcomes into the ports that they visit.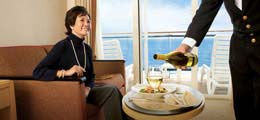 Exceptional Service
From the moment a guest boards they are warmly greeted by a white gloved staff. Cunard's renowned White Star Service exemplifies the attentive and refined hospitality that has been delivering elegant and memorable service since Cunard first set. This outstanding service will exceed your every expectation and defines the Cunard experience.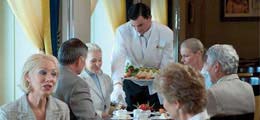 Dining Experience
The traditional restaurants on Cunard allow guest to benefit from the personal service gained from having the same wait staff each evening. The three main restaurants are assigned according to the stateroom category that is booked. Cunard also offers specialty restaurants on each ship. Todd English on Queen Victoria and Queen Mary 2 features innovative Mediterranean cuisine from the world famous celebrity Chef Todd English. The Veranda on the Queen Elizabeth provides a formal dining experience with contemporary French cuisine. Casual dining venues are also offered on all Cunard ships.