Emerald Cruises

Emerald Cruises
About Emerald Cruises
Emerald Cruises debuted in 2014, introducing their acclaimed, all-inclusive fares to travelers who desire a deluxe vacation brimming with value. Some of these included amenities are freely-poured wine, beer and soft drinks with lunch and dinner on board, gratuities, unlimited tea and coffee, bottled water in staterooms, WiFi, in addition to most meals ashore and at least one shore excursion daily. Many ships also have bicycles available for guests use in port. First Class attentive service is always available provided by an English-speaking crew.
Emerald Cruises' contemporary fleet is stylish and spacious. Award-winning Star-ships combine innovative technology with modern design. Enjoy more space per guest than on most other ships plying the worlds' rivers. Over 440 feet long, these river ships feature a heated pool which transforms nightly into a cinema area. Inviting bars and lounges make ideal venues for conversation and contemplation. Additionally, many of these ships have bicycles available for guest use in port.
Luxurious public areas showcase elegant furnishings, modern art and mirrored walls. Floor-to-ceiling windows provide guests with panoramic views throughout their journey. Head up top to take in the sights from the serene Sun Deck. Hit the track for laps, putt away on the golf green or visit the gym. Recharge your wellbeing with pampering services at the spa. Discover unique specially curated shore excursions with the line's special EmeraldPLUS and EmeraldACTIVE tours. These may range from coffee and cake in the home of local residents to canal tours, wine tastings, museums, concerts and botanical gardens, among others.
The convenience of open seating is available in the various dining rooms and eateries. Buffet breakfasts, lunches and four-course dinners at Reflections Restaurant, include delicious international and regional specialties. Delightful light breakfasts and café-style lunches are served al fresco, situated along the ship's bow, at The Terrace and the grill on the Sun Deck.
Beautifully appointed staterooms and suites are designed for your comfort throughout the modern fleet. Each of these feature cozy robes and slippers for use during your vacation, indulgent toiletries, sumptuous linens, flat screen HDTV, infotainment system, safe and more. Emerald Panorama Balcony Suite guests will enjoy a unique "indoor balcony." The floor-to-ceiling panoramic window can be lowered halfway down with the push of a button bringing the outdoors in.
Cruise with Emerald Cruises to some of the world's most spectacular destinations.
Emerald Cruises Highlights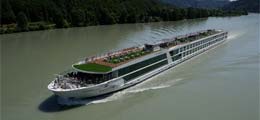 Star-Ships
Award-winning Star-Ships combine innovative technology with a modern comfortable design. More space per guest is offered than on most other ships plying Europe's waterways. Over 440 feet long, the innovative river ships feature a heated pool which is transformed at night into a cinema area.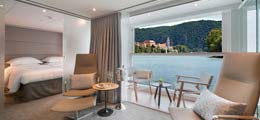 Emerald Panorama Balcony Suite
Only Emerald Waterways features its specially designed Emerald Panorama Balcony Suite that creates a unique indoor balcony with a separate decked area. With the touch of a button, the upper half of the cabin's floor-to-ceiling window drops down to let the fresh air in and allows you to better connect with the passing landscapes.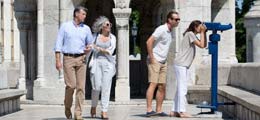 EmeraldPLUS
Discover unique specially designed experiences with the line's complimentary EmeraldPLUS. These exciting programs provide the opportunity to experience some of Europe's in-depth cultural discoveries at least once per sailing, such as a visit to the incredible Keukenhof Gardens while the ship is in Amsterdam. On some sailings, our EmeraldPLUS experiences take place right onboard, such as a culinary demonstration.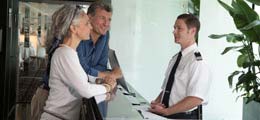 Discover More
Enhance your river cruise with Discover More, featuring optional authentic experiences tailor-designed according to how you want to spend your free time. Select tours with local guides, take part in authentic local encounters in various destinations and more.