Oceania Cruises

Oceania Cruises
About Oceania Cruises
Oceania Cruises is an upper premium cruise line which combines luxury with outstanding value. An Oceania Cruise offers the finest cuisine at sea, elegant accommodations and exceptional service.
The staterooms and suites on all Oceania ships were designed to be a private haven where guests can relax and recharge. They are spacious and comfortable and appointed with luxurious furnishings and amenities. The lavish linens and the Prestige Tranquility Bed will ensure comfort every night of the cruise. Guests sailing in one of Oceania's luxury suites all enjoy the exceptional service of a butler whose goal is to attend to all of the wishes and needs of each guest.
Dining onboard the Oceania ships is one aspect that sets them apart from other cruise lines. Gourmet dining is their passion and their head chef, world famous Jacques Pepin, has created a dining experience that is unrivaled. All of the their ships offer open dining in a variety of restaurants, all of which are complimentary. The menus are designed to reflect the regions where the ships are sailing and to take advantage of the freshest ingredients that are available. Oceania Cruises is proud to be member of Chaîne des Rôtisseurs, the world's most prestigious gastronomic society devoted to the art of fine dining.
Life onboard Oceania Cruises has a country club casual atmosphere. The ships are intimate and friendly and are the perfect size for meeting fellow travelers who might share your enthusiasm for adventure. An abundance of activities and entertainment options are available onboard Oceania ships. Guests might choose to work out in the fitness center, relax at the pool or be pampered at the Canyon Ranch SpaClub™. Oceania's newest ships, the Marina and the Riviera, boast the new Bon Appétit Culinary Center is the only hands-on cooking school at sea. The guest lecturers will enlighten you with their insights and enhance your understanding about the areas that are visited.
Oceania prides itself as destination specialists. The itineraries are carefully crafted to allow for in-depth exploration in each destination and, because of their size, their ships often call on ports that larger ships are unable to reach. Oceania's ships, the Insignia, the Nautica, the Regatta, the Marina and the Riviera, offer over 150 itineraries worldwide ranging from 7 to 35 days and include cruises to Alaska, the Caribbean, Canada and New England, Europe, Asia, Australia & New Zealand, the South Pacific, Africa and South America cruises.
Call now or book online to receive exclusive rates, special deals and extra amenities on your next Oceania cruise.
Oceania Cruise Ship Profiles, Deck Plans and Public Areas
Oceania Cruise Highlights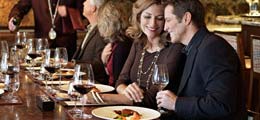 Culinary Adventures
An Oceania cruise is a culinary dining adventure. The partnership with Bon Appétit will take their culinary focus to a new level with enlightening hands-on classes, presentations and wine-tastings and the new Oceania Marina's Bon Appétit Culinary Center is the only hands-on cooking school at sea.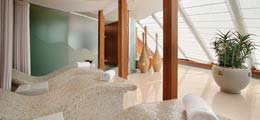 Award Winning Canyon Ranch Spa Experience
Nothing is more relaxing than a day at the spa and a day at a Canyon Ranch Spa is the ultimate in relaxation. The Canyon Ranch Spas aboard all Oceania Cruises provide nurturing and indulgent spa services that will leave you feeling renewed and relaxed.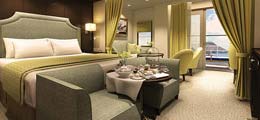 Country Club Casual Elegance
One of the highlights of an Oceania Cruise is its overall atmosphere of casual elegance. The exceptional service, fine dining and elegant, well appointed staterooms are all a hallmark of Oceania Cruises. However, the need to pack a tuxedo is no longer required.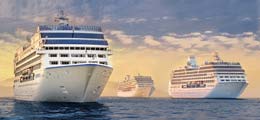 Mid-sized Ships
The Oceania Cruise fleet boasts mid-sized ships which allow a personal and intimate cruise experience that consistently exceeds expectations. While the ships are smaller the amenities and services onboard are consistent with those of larger cruise ships.