Virgin Voyages

Virgin Voyages
About Virgin Voyages
Virgin Voyages offers cruises unlike any others on its "Lady Ships." You will be looked after from the moment of embarkation. These unique sailings are adults-only, guests must be 18 years of age and over. First in the fleet, is Scarlet Lady. She accommodates 2,770 guests or "sailors" as the line calls them and at 110,000-tons, she is ideally midsized. This ship offers a modern touch and is a game-changer in the world of traditional cruising.
Onboard experiences reflect the line's focus on well-being. Venues and activities feature a fitness center with the latest equipment and an outdoor athletic club which includes a boxing ring, a running track, plus group classes and individual training. Enjoy off-the-beaten path excursions and immersive entertainment options, as well as free dining, gratuities, Wi-Fi and more.
Cruising with Virgin Voyages provides "sailors" with the highest level of service in a sophisticated yet relaxed environment. Discover the many chic bars and lounges, including "Richard's Rooftop" an exclusive top-deck area reserved for suite guests. Top off your look at the convenient barbershop and get that coveted tattoo you have been considering at the onboard dedicated studio. Sunbathe by the pool, and enjoy one of the many rejuvenating treatments at the spa.
Decadent dining options are offered at a variety of restaurants, where you may savor everything from casual fare to haute cuisine, including mouthwatering vegetarian dishes. Rather than a main dining room or buffets, Virgin features several diverse smaller eateries, all with exceptional made-to-order choices. Have a meal in the test kitchen that is part restaurant and part cooking school.
Revitalize your mind, body and soul at the cave-inspired thermal spa, with its hydrotherapy pools and quartz beds. Entertainment is elevated with a signature nightclub, thrilling parties, live music, a casino and a jaw-dropping ballroom.
You'll feel connected to the sea as nearly 90 percent of all accommodations feature a "sea terrace," which is what Virgin calls a balcony, and nearly all staterooms have an ocean view. Spacious and well-appointed, accommodations include several very large suites. The pinnacle of these has an outdoor shower overlooking the ocean and a "walk-up" dining table, perfect for dancing on.
Cruise with Virgin Voyages for the vacation you've been dreaming of.
Virgin Voyages Ship Profiles, Deck Plans and Public Areas
Virgin Voyages Highlights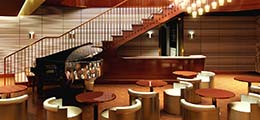 Adults-Only
Dedicated to crafting the most relaxing vacation experience conceivable, these cruises are exclusive to adults, 18 years of age or older. If you desire a romantic, fun, rejuvenating, and exhilaratingly different type of vacation, you will love Virgin Voyages. These fabulous sailings are all about you and your well-being. Dine, dance, socialize, celebrate and retreat to some of the largest and most incredible suites at sea.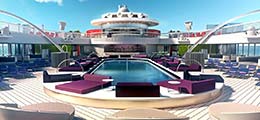 Wellness Experience
Wellness-focused, Virgin offers a wide selection of options to fit your lifestyle and personal needs. High-intensity workouts, yoga, spinning, kick-boxing and more can maintain your fitness regimen or write a new chapter to be followed at home. Burn, build and balance. Log distance on the outdoor running track and never "wait for a weight" because so many are available. Return from your incredible Virgin Voyages cruise stronger and more relaxed than before you set sail.