Windstar

Windstar Cruises
About Windstar Cruises
Taking a Windstar cruise is an exhilarating cruise experience. Their white sails tower up to 204 feet high and below the teak decks, sleek design and extraordinary service provide the atmosphere of being on your own private yacht. These luxury ships venture to unique destinations and hidden ports where most cruise ships are unable to visit.
A Windstar Cruise offers the ultimate luxury cruise vacation. With ships accommodating from 148 to 312 guests Windstar ships provide an experience of casual elegance, sophistication and unobtrusive, gracious service. Nothing can compare to the romance of being at sea under full sail.
Windstar's staterooms feature all on the amenities of a luxury hotel. As you enter your stateroom you will find a queen size bed, luxury linens, a flat-screen television with a DVD player, BOSE SoundDock speakers for IPods, Fully stocked mini-bar /refrigerator, an in-room safe, direct-dial telephone, fresh flowers and fruit, and spacious closets and drawers. The bathrooms all feature granite countertops, teak floors, a sink and shower, a granite vanity with magnifying mirror and chair, L'Occitane bath amenities, waffle weave robes and slippers and 110/220 outlets.
Windstar's award-winning yachts allow guests to indulge in 5-Star dining. World-class chefs present exquisite, gourmet cuisine using fresh, local ingredients. Dining on a Windstar ship has no assigned seating or dining time. You are free to dine when and with whom you please. The attire is casual elegant. For a truly romantic evening you can dine under the stars at a candlelit table.
Life at Sea can be as busy or as relaxed as you choose. Relax at the spa or take a dip in the pool or the hot tub. Work out at the gym or enjoy the complimentary watersports from the ships Marina Platform. In the evening enjoy the company of friends and fellow sailors in the Yacht Club or play a hand or two of black jack in the casino.
Windstar Cruises visit many unique destinations and unique ports. They offer a number of itineraries ranging from 5 to 14 days. Their three ships, the Wind Star, the Wind Surf and the Wind Spirit, sail to the Caribbean, Northern Europe, Costa Rica, the Panama Canal, The Eastern Mediterranean, the Western Mediterranean, and transatlantic sailings.
Call now or book online to receive exclusive rates, special deals and extra amenities on your next Windstar cruise.
Featured Windstar Cruises
Windstar Cruise Ship Profiles, Deck Plans and Public Areas

Windstar Highlights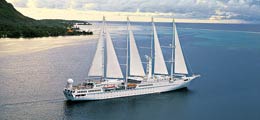 Masted Sailing Ships
There is nothing more exhilarating than arriving into a port under full sail. Windstar's ships combine the classic design of a private yacht with the luxury of a sophisticated hotel to provide a truly unique cruise experience featuring casual elegance and exceptional service.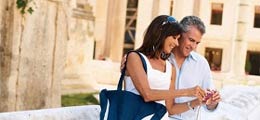 Romance
A Windstar is the definition of a romantic vacation. Whether you are on your honeymoon, celebrating an anniversary or just escaping on a romantic getaway you will find that special place on a Windstar Cruise. Romantic evenings under a starlit sky make for the perfect evening. In fact, Windstar was awarded the "Most Romantic Cruise Line" by Porthole Magazine Reader's Choice six years in a row.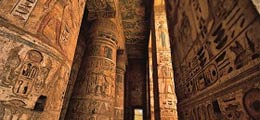 Unique Destinations and Ports
Under full sail a Windstar Cruise arrives into many ports both large and small. In the Caribbean they visit St. Kitts, the Grenadines, St. Lucia, and Virgin Gorda, to name a few. In Europe, ports like Malta, Mykonos and Amalfi are always a hit with Windstar guests. Windstar Cruises provide new adventures and experiences for even the most well traveled guest.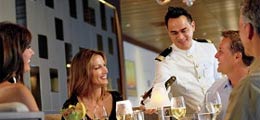 Exceptional Service
The extraordinary service found on a Windstar Cruise is what luxury cruising is all about. The friendly and unobtrusive staff pampers their guests and attends to their every need. The personal attentions allow guests to simply relax, unwind and rejuvenate.