Avalon Waterways
Dining Onboard Avalon Waterways Cruises
Avalon Waterways combines fresh, local ingredients with innovative menus, friendly service and amazing views to create a truly memorable dining experience. Avalon Waterway's head chef, Stefan Bloch, has won a number of awards and has worked in a variety of five star restaurants. Avalon waterways has also teamed up with two of Europe's rising culinary stars, chefs Karl & Leo Wrenkh, to create Avalon Fresh starting in 2017.
Intimate, open dining is served in the main dining room on each Avalon Waterway's ship. Complimentary beer, wine and soft drinks are served with lunch (starting in 2017) and served with dinner including a variety of regional wines.
Breakfast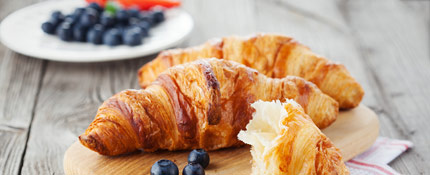 An Early-Riser Breakfast of coffee and baked goods is served at 6:00AM followed by a full buffet breakfast from 7:00AM – 8:30AM in the main dining room. The breakfast buffet features a selection of freshly baked breads, pastries and rolls, meats, cheeses, fruits, made to order eggs and other local specialty dishes. Late risers can enjoy coffee and backed goods from 8:30AM – 9:30AM.
Lunch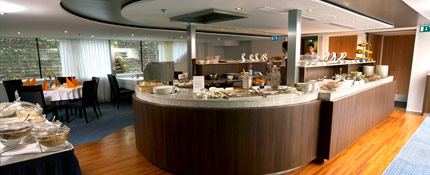 Guests can enjoy lunch featuring a full buffet that includes a variety of soups, salads, pastas, fresh baked goods, cold cuts, cheeses, carving stations and other entrees, many which focus on regional cuisine. Alternatively guest can enjoy grilled favorites in the Sky Bistro if the weather permits or a light lunch in the panorama lounge.
Dinner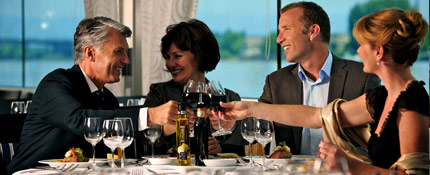 An elegant multi-course dinner is served at a single seating which offers innovative menus featuring a variety of appetizers, soups & salads, entrees including regional specialties and incredible desserts as well as complimentary beer, wine and soft drinks.
*Additional fee applies.
All menus and dining times are subject to change without notice. Some venues are only available on select ships.